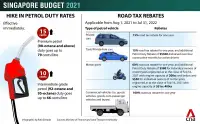 Yesterday, on the 16th of February 2021, the official Budget 2021 of the Singapore government was unveiled by Deputy Prime Minister Heng Swee Keat. It was a budget that was looked forward to by most as we wanted to see what sort of assistance, grants, and changes will be made to the living costs of ordinary Singaporeans during this unprecedented pandemic.
While some increases were to be expected as the government digs deep into the reserves of Singapore to help those in society that requires more aid, we also looked to them to give grants and support in various other aspects that would help Singaporeans tide across this period.
Being SingaporeBikes.com, we will not touch on most of what was introduced at Budget 2021 yesterday, but there was a particular section concerning motorcyclists and bike owners in Singapore that might affect you to a certain extend, depending on what class of motorcycle you have, and how much you use your bike.
Scroll to the end of the article for a real-life example of how this would affect your bike ownership!

Increase in Petrol Duty (per litre)
There will be an increase in the duty of petrol of 23.4% (or absolute 15 cents) for RON98 petrol grade.
There will be an increase in the duty of petrol of 17.6% (or absolute 10 cents) for RON92 and RON95 petrol grades.
This essentially means that the variable cost of using your motorcycle increases the more that you use it as this fee increase is peg to actual fuel consumption, i.e. distance that you travel on your motorcycle. Most motorcycles, with the exception of high-powered superbikes like Ducatis, the Yamaha R1, or the BMW S1000RR, uses either RON92 or RON95 in Singapore so we can expect most bikers to be affected at an increase of $0.10 per litre, or an average of $0.50 per full tank fill-up.

Rebates to Bolster Petrol Duty Increase
While the government has taken the difficult measure of increasing our petrol duty to offset eating into our reserves over the past year to cope with the COVID-19 pandemic, as well as to encourage the use of EV modes of transport moving forward, they have realised that most bikers use our vehicles to work, maintain our livelihood, and thus have sought to introduction additional measures and rebates to soften the impact of this duty increase.
There would basically be a:
One-off road tax rebate of 60% of your annual road tax payable Petrol duty rebate in cash ($80 for owner of Class 2B bikes, and $50 for owners of Class 2A/2 bikes) Regarding road tax rebate (from LTA):
In the short run, this would mean that you would actually be better of cashflow wise, and depending on the motorcycle that you ride, it would be an estimated 1-2 years before the long-term effect of higher cost of petrol will start to kick in.
Enough of numbers, they give most of us a headache. So, what does this ACTUALLY mean for you as the end user - Let's look at a real life example:
Yamaha NMax 155
Fuel capacity: ~6 Litres Fuel economy: ~43km/l Road Tax: $62.56 per year Average mileage per year: 20,000km Price of RON95 (previous/now after petrol duty increase) $2.15 / $2.25 Savings:
Road Tax Rebate: 60% X $62.56 = $37.54
Petrol Rebate: $80
Total = $37.54 + $80 = $117.54
Petrol Cost Per Year (Increase):
20,000km / 43km/l = 465 Litres per year
465 X $0.10 increase = $46.5
Time to breakeven:
$117.54 / $46.5 = ~ 2.5 years
This would mean that within the first 2 and a half years of your bike ownership, you would be better off cashflow wise due to the road tax rebate and petrol voucher, however, after this initial period, the actual cost of ownership and expenses pertaining to travelling on a motorcycle would increase.
 
What would this mean for you? Do you use your bike as a weekend toy or are you a food delivery rider? We reckon that with this petrol duty increase, those that use their motorcycles for delivery work would be much more affected than those who use their motorcycles less.
Let us know your thoughts in the comments section below!

---