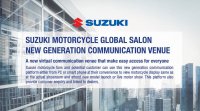 Suzuki Motor Corporation is set to launch its new Suzuki Motorcycle Global Salon (Global Salon), a next-generation communications platform that fans of Suzuki motorcycles may visit starting on February 5, 2021.
The Global Salon allows users to view motorcycles 'on display' in a virtual environment from the comfort of their own home, as though visiting an authorized Suzuki dealership or motorcycle show, and also enjoy the unveiling of brand new Suzuki models.

Suzuki Motor Corporation will also look to host future new model launches within the Global Salon platform, with fans from around the world able to virtually attend and witness the introduction of new Suzuki bikes as they are introduced, in real-time.
Registration opens at 3:00 PM (Local Singapore Time) on January 28, 2021, with the grand opening taking place on February 5, 2021.
Get ready to register and find out more at www.globalsuzuki.com/motorcycle/event.html
We can't wait to see what new bike launches are coming from Suzuki for 2021! Do you think Suzuki's infamous Hayabusa will be back for this new year?