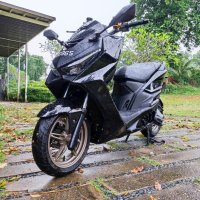 If there's one motorcycle that we've been excitedly waiting to review for 2021, something that promises to be a game-changer, then the Kymco KRV180 from Taiwanese manufacturer Kymco would be just the scooter that we've been waiting for. Although if you're a biker looking to purchase a new scooter in the Class 2B segment, you would be more than spoilt for choice as they are over 10 models to choose from, and for a brand to differentiate itself from the competitors is no easy feat.

When we heard about the KRV180 late last year, what got us excited was that the approach that Kymco has taken to launch this brand new model, is to take what was already in the market, replicate the best practices and features that most riders already love, and make it that much better. The uniqueness of the KRV180, from its independent rear swingarm (a first for any Class 2B scooters), to sequential LED indicators front and rear, Bosch ABS all around, and a separated internal and external belting system, were all something that you don't often or never see on a Class 2B scooter. What topped it off was the 175.1cc liquid-cooled FI engine that pushes out 12.3kW of power and 15.68Nm of torque, putting it well above the rest of its competitor in this space.

Read on more below to find what what we think about the Kymco KRV180, and our initial thoughts and impressions after spending 3 days, 180km, and a whole lot of rainfall while reviewing this scooter.
KYMCO Singapore authorised distributor: Motorsport Pte Ltd

KYMCO Singapore
Blk 3006 Ubi Road 1, #01-350, Singapore 408700
Tel: +65 6281 9778
Outlooks & Design of the Kymco KRV180
When we first saw renderings of the KRV180, this is unlike any scooter in the market currently. While most scooters cater to the economical commuter and thus have softer designs, rounded body panels and a more time tested design, we can't help but wonder if designers had their free hand to design a scooter that would appeal to a more motorsports driven scooter, what would it look like? This idea has manifested itself in the Kymco KRV180.

The bold design, sharper angles and beautiful LED lighting all around have given a look to the KRV180 of one that exudes sportiness, looking fast while being stationary, and when you add the modifications into the mix, you can create a scooter that you truly call your own. Days gone by of when you tell people you ride a boring old scooter are now in the past as if we dare say, this is one menacing looking beast. As the interest in scooters becomes ever more prevalent as commuters look towards more economical ways of travelling, motorcycle brands are now trying to take the design of scooters to the next level and we think the only other one that comes close would be the new and incoming - Italjet Dragster.
The KRV180 has smart badging all round the scooter to let people know this isn't just any ordinary scooter, the "Type S" badge on its rear quarter shows off the sportiness aspect of the scooter, and the 3 colour options that are available makes certain that there is a KRV180 suitable for everybody. Local agent Motorsport Pte Ltd feels that the Blue option would be the most popular but if we'd have our pick - the Black model with Gold rims is definitely our choice.

The exposed rear half of the scooter also gives a peek into the thought and design that has gone into the technical aspect of the KRV180. Red rear coil springs, an independent rear swingarm like those you find on the Kymco AK550 or Yamaha TMax, and a beautifully crafted exhaust that makes us think there isn't any need to buy an aftermarket one (more on that later). All in all, we think Kymco has designed the KRV180 to be a smart little package, a pocket rocket if you will that will stand out from the rest of the NMaxes and PCXes.
Engine, Technicals & Power of the KRV180
When we collected the KRV180 from Motorsport Pte Ltd's showroom, at first twist, we knew this was something quite different from most other scooters we've tested. The 175.1cc 4 valve engine delivered power very smoothly, and instantly you could feel that was a lot of torque and the little rocket was rearing to go. What we like for daily riding (shoutout to our delivery riders) was that there was little to no slack in the throttle controls, and that the powerband was very consistently throughout the whole rev range. You know that hesitation as you move off the line after coming to a stop? It's not there with the KRV180.

The first modification for any Class 2B motorcycle would usually be a set of bar-end balancers because when you push a 155cc engine above 90km/h, everything starts vibrating and shaking. We found no need for a set of aftermarket bar-end balances on the KRV180 because of its larger displacement resulting in a more balanced and stable right. Power throughout is sufficient, and because of its capacity advantage it has over its rivals, there is definitely more 'omph' versus riding something in the 150-160cc category.
What really impressed us however, was the stock exhaust system that came on the Kymco KRV180. Starting the scooter for the first time we were pleasantly surprise when the engine came to life as it gave out a deep burble, and had sufficient volume so that you know what you have here is no any run of the mill scooter that you take to the market. We'd go as far as to say that the stock system on the KRV180 sounds even better than some aftermarket exhaust systems on the market. This is another way that you can save some money and use it instead for other modifications.


Close up look at the exhaust system and the CVT belt-drive system. We like those red touches.
Kymco has also focus on making sure that the maintenance of the scooter is easy as they come with average service intervals, and the Japanese made belts for both the CVT system and they drive train have a replacement mileage of 20,000km and 50,000km respectively. This is another big different from both scooters as it uses a dual-belt drive system so as to have a longer useful life for the belting systems. It also looks like it means business as you have a hidden belt compartment on the right side of the scooter, and an exposed drivebelt system on the left side of the scooter.
Handling & Riding Impressions of the Kymco KRV180
One thing that we noticed right off the bat is the enormous wheelbase of the Kymco KRV180. This is a result of the KRV180 being the first scooter under the 200cc category to employ an independent rear swingarm from the likes of much bigger capacity scooters in the market. This is actually one of the most prominent feature that sets the KRV180 apart from the rest as the changes in the riding dynamics that have resulted from this is very obvious in the day to day riding that we did.


Check out that wheelbase & the rear independent swingarm!
You know how the first 'major' modification for most scooter riders would be to change out the rear shock of their scooter as the ride quality from factory is usually very harsh and jarring when going through uneven terrain or potholes? We didn't have any issues here at all. In fact, we specifically tried looking for uneven bumps in the road to test out the suspension to the limit but were unable to replicate any hard knocks as the "Kymco Suspension System (KSS)" just soaked it all up like a magic carpet ride. Although priced at a premium, the Kymco engineers sure knew what they were doing when they decided to put an independent rear swingarm on a 175.1cc scooter. Here's yet another part that you can save money on not having to go the aftermarket route!
On the handling aspect, the longer wheelbase also translated into smoother and more 'flowing' turns into corners and although the rain did not stop during our test ride, the bike felt very planted without any twitchiness. One offsetting factor of a longer wheelbase however is the turning radius of the scooter. While slightly widest than most, it is still very well acceptable within the range.


The sidestand is placed close to the front half of the KRV180 with the main stand being towards the rear
The other area of focus when we put over 180km on the bike was to test the build quality. Most bikers in Singapore has always been very weary of scooters produced outside of Japan, due to its reliability issue, lack of aftermarket parts, as well as build quality. Going through bumps and the general roughness of the road did not rattle anything loose, we were not able to hear any squeaks or rattling, and pushing on the body panels the gaps and tolerances were on par to any top tier brands. This is certainly very impressive as even on the Japanese brands' budget scooters, you'd often hear rattles and have loose panels on their scooters.
The Kymco KRV180 is completely built and assembled in Taiwan, using the Bosch ABS system and all belting on the bike is from Japan. For a further peace of mind, Motorsport Pte Ltd is giving a full 12 months warranty with any new scooter purchase.


Check out those brakes! (rotors are aftermarket)
The one thing that we thought could be improved was that the windscreen (or lack thereof) of the KRV180 is extremely low, similar to the Yamaha Aerox 155. And with the speeds that this scooter can reach, there is a certain amount of wind resistance that could be mitigated with an aftermarket windscreen. This could be another modification to consider if you're going to be taking the KRV180 on long rides or journey up North when the border reopens.
Technology & Features of the Kymco KRV180
The last aspect that we focused on, and this was also a big talking point during the KRV180's press release, is the sheer amount of technology being thrown into the mix here. Have you ever wondered in 2021 why some motorcycles still come with Halogen lights? We did. But with the Kymco KRV180, there was really nothing to fault (well ok maybe except it's pricier than other Class 2B scooters).
Just to give you an idea, here's a full list of tech and features that comes with the KRV180 Type S being imported into Singapore:
Full LED lighting system all around
Sequential LED turn signals front and rear
Dual LED screen console on dashboard
Bosch ABS front and rear
Traction control system
Keyless entry and start/stop with security button
USB charging port comes standard
LED light within underseat storage


Underseat storage sufficient for 1 helmet, with LED lighting (DVR not included)


Keyless system, coffee hook, and USB charging unit with a deep usable pocket
All the features are very intuitive and easy to get to, and we've not had any faults in our 3 days of riding the scooter.
One standout point for us while testing the KRV180 at night was its headlights. My goodness the sheer clarity, distance, and brightness of the headlights was something we've almost never seen before. The symmetry and cutoffs were sharp and not glaring to other road users. Enough of us talking about this - let us show you the pictures.



Low beam on the left, high beam on the right
Price, Availability & Colour Options for the Kymco KRV180 in Singapore
The Kymco KRV180 is available for booking with ready stocks in Singapore now from Kymco exclusive distributor - Motorsport Pte Ltd (Kymco Singapore). There are 3 colours available - Indigo Sea Blue, Snow Peak Silver, and Ether Black. Limited stocks are available so if you're interested in checking out the KRV180, do head down to their showroom to have a look and test drive.


All 3 colours available for the Kymco KRV180
Machine price for the Kymco KRV180 starts at S$9,000 and all models imported into Singapore are the "Type S" variant and comes with a whole host of options included. Yes yes, we know that this is roughly a 25% premium over other 155cc scooters in the market once you have factored in the current COE prices of $9.3k, but if you compare all the features you are getting on the KRV180, with its Class 2 scooter-like suspension system, and the top quality exhaust and technology package, it could just about seem worth it for the price!


Kymco KRV180 Type S
Please note that our test bike used for this review has a few aftermarket parts added on to it but does not affect the performance, handling, riding, or economy of the bike in anyway. What we have reviewed here is probably extremely similar to what a stock and original bike would feel like.
If you mention "SingaporeBikes.com", they might just be nicer to you and work out a special deal for you!
KYMCO Singapore authorised distributor: Motorsport Pte Ltd

KYMCO Singapore (Showroom)
Blk 3006 Ubi Road 1, #01-350, Singapore 408700
Tel: +65 6281 9778
If you've been a biker for a long time, you would know that not many shops or even authorised agents allow for test-riding in Singapore. Motorsport Pte Ltd however, is so confident that this new KRV180 is such a level above the rest of the competition, that good news, test rides ARE available for potential buyers so you can ride and feel the awesomeness of the KRV180 for yourself.
Stocks are limited so hurry down to their showroom today for a test ride (but please call prior to check for availability).


Ready to be taken home by you! Blue on Gold wheels looking good!
For more pictures: