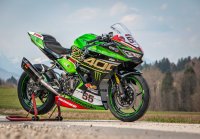 Being one of Japan's big four, Kawasaki is one of the principal players in the motorcycle industry. With a history of manufacturing motorcycle for well over 100 years, Kawasaki has successfully planted itself all around the globe.
In general, the last year 2020, was a pretty good year for Kawasaki. The highlight of the year for Kawasaki includes the comeback of the iconic ZXR250 in the form of Ninja ZX-25, the revival of Meguro brands of motorcycles and last but not least the next-gen updates for 2021 models.

Although things were going pretty smooth, Kawasaki saw a drop in sales in South East Asia because of the COVID-19 pandemic. In fact, Kawasaki was expecting to see a loss of about 5 billion yen [47 million dollars] in operations for 2020.
In November 2020, Kawasaki Heavy Industries (KHI) announced that the company will spin off its rolling stock [Train division] and motorcycle & engine business later this year in October 2021 as a part of a major restructuring.
Kawasaki told the media that spinning off the business will speed up decision making and offer products and services that sync with customers. Besides this, Kawasaki also mentioned that they would improve their financial situation and strengthen inter-industry cooperation via joint development of advanced safety technologies, development of electric drive to catalyse growth and market revitalization.
Hearing Kawasaki specifically pinpointing the sluggish sales in the South East Asian region triggered us to take a closer look at the brand in Malaysia. It has been a long time since Kawasaki has had any significant presence in Singapore and Kawasaki owners and lovers had to venture up North to Malaysia to purchase spare spares and other accessories as Kawasaki bikes were few and far between in Singapore.

We had a slight glimmer of hope a couple of years back when the popular Kawasaki Ninja 400 was launched in Singapore and we saw a flurry of importations from bike dealers and importers as they expected the model to be pretty sought after. A few months after launch and after the first few bikes were delivered however, the interest slowly died down and we are back to the 'good old days' where the other Japanese brands such as Yamaha, Honda, and even Suzuki are much better represented in Singapore by their authorised distributors.

In Malaysia however, Kawasaki Motors (Malaysia) Sdn Bhd is the sole importer, assembler and distributor of Kawasaki brands of bikes in Malaysia. However, things have been a bit too quiet with Kawasaki Motors lately. Could this be because Modenas is cooking up a big plan directly with Kawasaki Heavy Industries (KHI) behind the scene? Well, without further ado, let's get right into the details.

National motorcycle company Motosikal dan Enjin Nasional Sdn Bhd (Modenas) and KHI have had a long and successful relationship beginning with the former's incorporation in 1995 with KHI owning a 19% equity in Modenas. In case you didn't know, Modenas actually manufactures parts for Kawasaki.
After a successful 24 years run, in April 2019, KHI upped its stake in Modenas from 19% to 30% equity. The disposal of the shares by DRB-HICOM "The Group" was for a cash consideration of MYR 40.3 Million (USD 9.97 Million) based on a wiling-seller-willing buyer basis.
Fast-forwarding to 2020, during the National Automotive Policy 2020, Modenas' Chief Executive Officer Roslan Roskan told the press that Modenas would be assembling and marketing nearly 8 Kawasaki models in Malaysia which are below 700cc.  Roslan Roskan also shared that an initial investment of MYR 5 Million had been made to set up a dedicated Kawasaki production line in Modenas's Gurun plant to make this all happen.
Besides this, according to sources, last year Modenas planned to produce 1000 units + of the Modenas Ninja 250 in partnership with Kawasaki by H2 of 2020. As of January 2021, there haven't been any updates on this or the plans of manufacturing sub-700cc Kawasaki models. We believe COVID-19 pandemic has played a major role in Modenas' 2020 plan.

On another note, recent reports hint Modenas would be going all out with Kawasaki, taking over more than just the planned sub-700cc models. However, neither Kawasaki nor Modenas have officially announced anything yet.
What baffled us the most was the figures of newly registered Kawasaki motorcycles in Malaysia for Q4 last year (2020). According to reports within October 2020 and December 2020, only 55 units of Kawasaki motorcycles were newly registered in Malaysia. To put this into perspective, 88,243 units of Yamaha and 48,782 units of Honda motorcycles were newly registered within the same period last year in Malaysia.
What's worse is that upon enquiring several motorcycle dealers in Malaysia; we were told that the stocks of Kawasaki motorcycles are running really low. We also heard about Suzuki making a come back under Kawasaki Motors Malaysia Sdn Bhd.  So as a brand where is Kawasaki heading to in Malaysia?
To clearly understand the situation we personally got in touch with a few parties. We were told that Kawasaki Motors Malaysia Sdn Bhd would part away with KHI later this year, 2021 (as far as they know). This means there is a high possibility that Modenas would take over the Kawasaki brand in Malaysia and proceed with the earlier proposed plan very soon. While this sounds positive, it would also mean that the bikes branded and sold under the Kawasaki brand would actually be built by Modenas and not the actual JDM models from Japan.

Especially with KHI's recent announcement on the spin-off and restructuring; we think things would take a good (or bad depending how you look at it) turn for Kawasaki as a brand in Malaysia as well. Well, we can only speculate at this point; so let's wait and see what are KHI's and Modenas's future plans for Malaysia.
If KHI does indeed exit the Malaysia market and sell it intellectual rights to Modenas, i'm afraid of what this might mean for Kawasaki owners and enthusiasts in Singapore as it would not be the same as purchasing a motorcycle branded Kawasaki but is actually built and developed in Malaysia by Modenas. Not to mention the lack of spare parts for the older Kawasaki models plying our roads today.
What do you think? Let us know in the comments section below! Or should one of the bigger motorcycle players step up to the plate and take over the distribution of Kawasaki in Singapore? That might be interesting..