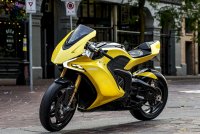 Canadian electric bike firm Damon have given us another glimpse of their flagship Hypersport model. The bike shown appears to be the Premier edition complete with Öhlins suspension, Brembo brakes and a single-sided swingarm.

For the uninitiated, new kids on the block Damon came out swinging last year with the Hypersport, a bike with a category-defying claimed 200hp, 200-mile range, 200mph top speed and 200kg weight. The batteries, they say, can also be charged to 80% in just 45 minutes with a combined charging system.
Not content with these bold performance claims, Damon also said the bike's CoPilot electronics complete with 360-degree HD cameras will keep you safe as you ride. Plus, at the flick of a switch, the handlebars and footpegs physically move between sportsbike and touring ergonomics.

All of this may sound optimistic for what is essentially a new manufacturer, but Damon have worked with BlackBerry on the software for their safety systems, brought on technical expertise from the defunct Alta Motors and bought up the IP portfolio of Mission Motors, too.

Damon say this new version represents 12 months of evolution and optimisation and includes tweaks to the bodywork, a more powerful motor, a higher voltage battery configuration, new handlebar controls and a new 7in recessed LCD display.

The new version will be fully unveiled in the coming weeks, keep an eye here on SingaporeBikes.com for more information as we have it.

Most electric bikes revealed thus far from the likes of the Scorpio X and the Vespa Elettrica have been scooter variants with their traditional gasoline engines replaced with an electric motor, but with this new bike from Damon looking like it could be a Ducati in disguise, would it make you reconsider your thoughts about owning an electric motorcycle? Think of all that torque you could have from 0rpm onwards!