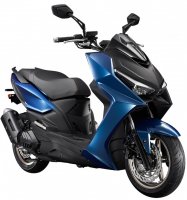 KYMCO just unveiled 4 new scooters through a virtual launch in the last quarter of 2020. One of the scooters that caught the eye of many of our readers is the KRV – a 175cc scooter loaded with lots of features which are usually reserved for the bigger, flagship models. Although the news did not get much traction in South-East Asia, we'd reckon if the scooter was bound for Singapore shores, this would get many scooter riders to sit up in their seats and take notice.

Being a 175cc automatic scooter, the Kymco KRV is one of the largest displacement Class 2B scooters should it actually make it to Singapore. In the land of the "kiasu", getting a Class 2B license means that you are legally allowed to ride any motorcycle or scooter up to an engine capacity of 200cc, however, most of its competition currently have engine capacities ranging from 125cc to 155cc. The last larger displacement Class 2B scooter that we saw in the past was the super popular Gilera Runner ST200 - and we reckon its horsepower, speed, and engine displacement played a big part.
Bigger engine
The KRV is powered by an SOHC 4 stroke, 4-valve, liquid-cooled, fuel-injected, single-cylinder. It's actual displacement is 175.1 cc. It produces 16.7 PS at 7,500 rpm and 15.68 Nm of torque at 6,000 rpm.

Styling
Like most modern scooters today, the KRV's styling cues possess aggressive lines. Its lights are powered by LED technology instead of conventional bulbs. These help to give it a distinct look on the road.

Flat floor
Compared to most scooters, KYMCO opted to go with the traditional flat floor design to give the rider more legroom. This would be more akin to the Piaggo Vespa rather than the more popular Yamaha NMax and Honda PCX.
Fuel tank capacity
The center mound is usually where maxi-scooters keep the fuel tank. Having a flat floor doesn't mean that the KRV is short on fuel tank capacity, though. In fact, compared to the other scooters in its class, the KRV boasts a bigger fuel tank capacity at 7.2 liters, which could translate to less visits to the gas station.
Convenience features
Another feature evident is its keyless system. Like many of the newer scooters, keys are being ditched for a fob that broadcasts a radio frequency to the bike. This makes it harder to steal. In addition, it's also more convenient for the rider who no longer has to fumble through his pockets to start his bike.
It also comes with an integrated power socket for charging phones, which is now a standard feature on higher end 150cc scooters these days. Thankfully, it's not inside a compartment, letting you plug your phone while it's mounted over the handlebar.

If you take a good look at the upper right photo, you'll also notice the scooter has an integrated passing light on the left handlebar. This may seem like a minor addition but to many delivery riders, this is invaluable, especially at night when riders can easily by cut off by cars that don't see them.
Traction Control System (TCS)
Traction control is a new feature we're seeing in more entry level scooters. It works by cutting off engine power in the event the onboard computer senses too much rear wheel spin, resulting in a loss of traction, which then could lead into an accident. The computer is always measuring the traction level and adjusts the throttle delivered to the rear wheel as needed.

This technology is usually reserved for bigger and more expensive expressways-legal motorcycles. If KYMCO opts to bring the KRV here, it could be one of the few pioneers for the technology in the sub -200cc segment.
From what we've seen, the KRV is pretty packed with features that are usually reserved for bigger bikes. If KYMCO decides to bring the KRV here, with all these innovations, it could give it a leg up over the current competition.
What do you think of the Kymco KRV? If this is a scooter you'd be interested in, do give the local distributor Kymco Singapore (Motor Sport Pte Ltd) a shout - if enough of us asks for it, we're pretty sure they'd be incline to consider.
In the meantime, if you're looking for something else within the Kymco range, reach out to Kymco Singapore and mention SingaporeBikes.com (SBF) for a special SBF member pricing + additional freebies!
KYMCO Singapore authorised distributor: Motor Sport Pte Ltd

KYMCO Singapore
Blk 3006 Ubi Road 1, #01-350, Singapore 408700
Tel: +65 6281 9778