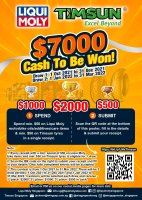 Attention ALL Singapore bikers!
SingaporeBikes.com title sponsor Liqui Moly Singapore is giving away S$7,000 in CASH!!!
This is one of the largest cash prize ever to be given out to bikers in Singapore and it's as simple as A B C (actually even less, maybe just A B).
All you have to do to enter this lucky draw and stand a chance to win the cash prize is:
Spend min. $50 on Liqui Moly motorbike oils/additives/care items AND min. $50 on Timsun tyres in a single receipt.
Head over to https://bit.ly/LMxTimsun, fill in the details & submit your receipt.
Yes, it's that simple!
But here's the catch, the first draw period is from 1 Oct 2021 to 31 Dec 2021.
So remember to SPEND and SUBMIT within this time frame. (More information can be found in the poster below.)
Wait no longer, pamper your bike with Liqui Moly and TIMSUN SINGAPORE - Wing Yap Motor today for a chance to win cash prizes!