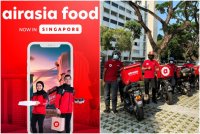 AirAsia has launched its food delivery service in Singapore. The Malaysian budget airline broke into the highly competitive Singapore market on March 2, 2021. The latest venture is called AirAsia Food.
In an AirAsia statement issued to the public, it mentioned that it already has onboarded 500 riders in Singapore.

AirAsia Food Riders - Estimated Earnings & Application Process
Riders who wish to join AirAsia Food can expect to earn S$700 a week on average by fulfilling 10 orders per day for six days a week, estimates Mr Lim Ben-Jie, head of e-commerce for the AirAsia app. That means an average order fee for the rider of S$11.67! Far outweighing any of the competitors available in Singapore currently!
If you are keen on becoming a rider for AirAsia Food, you've come to the right place. As of now, the current link for riders who are looking to join as a rider (within Singapore), the link is:
http://bit.ly/Teleport-Apply-Now-SG
The application process takes within 1-2 working days and applicants will be informed via e-mail on whether or not their application was successful.

Impact on F&B Retailers & Onboarding
There are at least 24 food-and-beverage outlets listed on its platform, with some 300 food operators are in the process of being included. Those already on board include the famous Swee Choon Tim Sum and Maki-san.
On the consumer end, AirAsia Food has pledged to make delivery fees 5 per cent lower than its competitors, which comes up to taking a cut of about 15 per cent commission. Other existing food delivery platforms in Singapore can charge up to 35 per cent commission.
How This Impact Consumers - CHEAPER Deliveries!
From now till March 16, AirAsia Food is offering a two-week free delivery for orders within 8km to encourage users to download its app and starting ordering through AirAsia Food.
Orders can be made through AirAsia's app, where flights can also be booked, or via the AirAsia Food website.
To order through AirAsia Food or to explore their platform, you can head to the AirAsia Food website here:
AirAsia Super App (Apple): https://apps.apple.com/sg/app/airasia/id565050268
AirAsia Super App (Android): https://play.google.com/store/apps/details?id=com.airasia.mobile

AirAsia Group's chief executive officer Tony Fernandes said AirAsia Food will be cheaper because it is no frills and cuts out extra services.
He said AirAsia Food won't have maps for consumers as a way to cut cost: "We don't think you really need to know where your driver is, because that costs us."
AirAsia is intending on moving into the fresh produce delivery market in Singapore next, with a firm target on local incumbents GrabMart.

After Singapore, AirAsia Food plans to launch in Thailand, Indonesia and the Philippines in 2021.
The most ambitious idea is the plan to launch -- within the next two to three months -- a yearly pass where customers can book unlimited flights from Singapore to another Southeast Asian country and enjoy free food delivery.