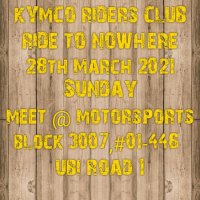 Dear SBF members!
Kymco Singapore Riders Club will be organising a ride to nowhere on 28th March 2021.

Meet up at 0730hrs. Location will be at Motor Sport Pte Ltd (Kymco Singapore):
Blk 3007, Ubi Road 1, #01-446 Singapore, Singapore 408701
This event is open to all types of bikes and make.
No registration is needed.
Safe distancing measures will be strictly enforced.  All participants are required to adhere to rules set by the organisers. Proper riding attire and footwear required.
Convoy will move off at 0800hrs.
Hope to see you there!
RSVP now at our event calendar here: