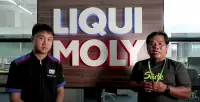 On this episode of Ride or Bust (great bunch of guys doing some great work!) - We have with us the Chief Operating Officer (COO) of Liqui Moly Asia Pacific, Mr Brendan Ang as he shares his thoughts on what the brand has done in Singapore, how it has maintained its #1 position by engaging with the biking community and being passionate bikers themselves, and also how they continuously improve their products from YOUR feedback!

If you ever want to become a Liqui Moly ambassador here in Singapore or get involved with the Liqui Moly brand, watch the video below and learn more!
P.S. Brendan's favourite form of transport is on 2 wheels! Don't take our word for it, there is video evidence!
ABOUT LIQUI MOLY
THE BRAND FOR YOU
https://www.liquimolyasia.com/
Liqui Moly products are researched, developed and manufactured in Germany. Your competent partner for lubricants, additives, chemical fluids and care range for automotive and industrial.
Liqui Moly has been raising the bar in terms of quality and service for the past 60 over years. This is the brand that moves and fills with enthusiasm. The ultimate brand for you, your trust is our most valuable award.