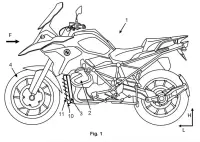 BMW Developing Adaptive Cooling Feature For Motorcycles
BMW is developing an adapting cooling system for motorcycles – not to prevent overheating, but to improve aerodynamics, using shutters to close off the radiators when demand for cooling is low. There's actually nothing new about the idea as many modern cars – including BMWs – use the same system, but this would be a first for a bike.

A BMW patent application has revealed what the brand calls "tilting vehicle having a cooling arrangement with a movable air-guiding device." The illustrations clearly reveal a cooling system at the front of the radiator. As in cars, where a similar system is used, the idea is to allow sufficient cooling to satisfy a high-performance engine working at full load, but also to provide better aerodynamics when the engine is not being used at its best performance.
Adaptive Cooling is an innovative feature by BMW. The automaker states that this feature makes the vehicle more aerodynamically efficient while proving the engine with the required air intake. While an open grille was always good for the engine in terms of cooling, it caused the radiator to create air resistance and thus render the vehicle less aerodynamically efficient. 

The patent identifies the issue with motorcycle radiators being mounted where they're exposed to the most airflow possible, which creates a significant aerodynamic obstacle. BMW indicates that the brand will soon employ moveable air guiding devices in its motorcycles that can be opened and closed as per requirements. This feature also aims the fix the issue of 'oversized cooling arrangements' in motorcycles. BMW says that the cooling systems of its motorcycles are designed to handle extreme weather and performance conditions making it oversized for everyday use. The radiator in the motorcycles is placed where the airflow is maximum making it a substantial aerodynamic obstacle. 
Most motorcycles use a radiator to cool the engine, but this can create air resistance and inefficiency. BMW has come up with a solution called "active shutters." It's like a venetian blind that can open or close in front of the radiator to let in more or less air, depending on how much cooling is needed. 
By redirecting air around the radiator instead of through it, active shutters can reduce drag and make the motorcycle more efficient. 
The sketches featured in the patents show drawings of an adventure style motorcycle and the active shutters' movement. It could be likely that is a reference to the upcoming R 1300 GS motorcycle featuring this new bit of tech. Since BMW already mass-produces an active grille system for use in millions of cars, translating it to motorcycles shouldn't prove to be a hugely taxing task if the benefits prove to be as significant as the patent application suggests.
Article Credits: cycleworld and britishmotorcyclists
Join SingaporeBikes on Telegram for more of the latest news, special offers, reviews of motorcycles, and more!