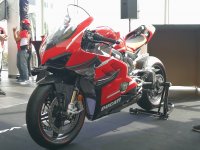 First Ever Unit of Ducati Superleggera V4 to arrive in Malaysia, with only 500 units in the world.

This is the only street bike with a carbon fibre chassis, swingarm and wheels as standard from the factory.
Dry weight of 159kg, 16kg less than the current Panigale V4, and it comes with lightened Öhlins with pressurised fork for better handling in the corners. Stopping prowess is taken care of by a Brembo braking system with Stylema R callipers.

On the technological side, it includes latest generation electronics package that includes EVO 2 strategies for the DVR and DQS up/down.
Power is up to 234HP and the units are priced at MYR888,000 (SGD292,000) in Malaysia.
While most of us are complaining about the high COE prices driving up Class 2A bike prices to over SGD20,000, this Ducati Superleggera V4 is made for the very few and far between riders that can afford to pay almost the price of a HDB flat just to own the latest and greatest from Ducati.

Do you reckon we'll see any of these Superleggera V4s on the roads in Singapore? Guess we'll have to check in with the local Ducati agent to find out.

What do you think of this beast? Is it too execessive? Or is it priced too high? Are we going into unchartered territories as bikes get ever more expensive? Let us know in the comments below!