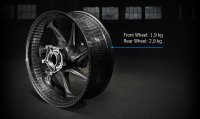 The previously announced cooperation of chassis specialist Thyssenkrupp Bilstein and the German carbon wheels manufacturer Thyssenkrupp Carbon Components has reached another milestone with the sales in the NAFTA region officially starting in December 2020. As a result, the braided and ultralight carbon motorcycle wheels can be purchased in the United States of America, Canada and Mexico through the channels of the official importer and distributor Bilstein of America.

Customers can now enjoy the full range of the braided Thyssenkrupp carbon wheels covering a number of models of seven manufacturer including the respective flagship motorcycles such as:
Honda CBR1000RR-R Fireblade
Yamaha YZF R1
Selected Aprilia models
Selected BMW models
Selected Kawasaki models
Selected Suzuki models

Extensive information and an overview of the models, for which the unique Thyssenkrupp carbon wheels are available, can be found on the manufacturer's website. The model range will be constantly expanded with further motorcycles to be equipped with the braided carbon wheels being announced in the next months.

A characteristic, which is highlighting the uniqueness of this product is its certification with ABE, DOT E and JWL. This results in the Thyssenkrupp carbon wheels being the only carbon motorcycle wheels, which are road-legal worldwide. It, furthermore, speaks for the high quality-standards, which combines the best material quality on the market, the usage of extraordinary patented technologies as well as a variety of thorough in-house and external testing procedures.

We have reached out to Blistein Singapore to find out if these awesome looking wheels which are finally street legal will be making it onto Singapore's shores. Otherwise, it might cost a hefty penny to get them imported from the United States but they would be so worth it, wouldn't they?
What do you think of these carbon fibre wheels? Will you trade your tried and test old school wheels for better weight savings and a stiffer feel? Let us know in the comments section below!