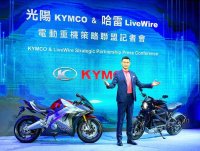 The recently announced agreement between Taiwan's largest motorbike brand KYMCO and American motorcycle maker Harley-Davidson on the development of electric motorcycles will create a mutually beneficial partnership, KYMCO Chairman Allen Ko (柯勝峰) said Thursday.

"As the car and motorcycle industry faces a critical turning point, this first-of-its-kind partnership in the business of motorcycles will create a new dimension in the electric motorcycle market," Ko said at a press conference in Taipei.
KYMCO Singapore authorised distributor: Motorsport Pte Ltd

KYMCO Singapore
Blk 3006 Ubi Road 1, #01-350, Singapore 408700
Tel: +65 6281 9778
On Dec. 13, Harley-Davidson announced a plan to list its electric motorcycle division LiveWire on the New York Stock Exchange through a special purpose acquisition company (SPAC), with KYMCO and Harley-Davidson each investing US$100 million under their agreement.
"LiveWire's mission is to be the most desirable electric motorcycle brand in the world," said Harley-Davidson Chairman and Acting CEO Jochen Zeitz in a pre-recorded video shown at the Taipei press event.

It is a historic milestone for LiveWire because it will become the first publicly traded electric vehicle (EV) motorcycle company in the United States, Zeitz said.
Once the transaction is finalized, Ko said, KYMCO is expected to own a 4 percent stake in LiveWire and play a role as a strategic partner. Harley-Davidson will hold 74 percent of the shares once LiveWire is listed, it said.
Ko said KYMCO and Harley-Davidson can tap into each other's very different resources and strengths to build a shared EV platform through LiveWire, creating synergies for both enterprises.
According to Ko, KYMCO and Harley-Davidson both have strong influence in the market despite their different brand positions, regional strengths, products, distribution and research and development.

These differences will enable the two companies to build an optimal EV platform, as they work together to develop different products for their own brands, while sharing their at-scale manufacturing capabilities, Ko said.
For KYMCO, the partnership will help elevate the Taiwanese brand's image and exposure to a higher level, and create more possibilities for its own electric motorbike business, Ko said.

According to Harley-Davidson, the transaction is expected to close in the first half of 2022, but is subject to approval by shareholders of AEA-Bridges Impact Corp., the SPAC formed for the purposes of effecting mergers, share exchanges, asset acquisitions, share purchases, reorganizations or similar business combinations with target businesses.
First published on Focus Taiwan