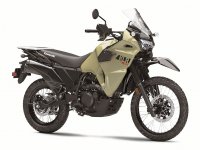 This year might have gotten off to a shaky start, but 2021 has redeemed itself. After a two-year sabbatical, Kawasaki dropped the news: The KLR650, king of the KISS (Keep It Simple, Stupid) ADVs, is back. And at first glance, the bike thrifty backcountry explorers love most appears to be blissfully unadulterated. Sure, the list of new-for-2022 features is pretty long, but wisely enough, Kawi seems to have addressed many of the affectionate grumbles aimed at the previous version while maintaining its bare-bones "I'll take you wherever you want to go as long as you don't mind if it takes a while" personality.


We're loving the "Desert Storm" paintwork on this 2022 Kawasaki KLR650
One point to note before reading this article however, is that it has been a common problem in Singapore for a long time that there is no established Kawasaki agent here locally and Kawasaki owners have been heading up north to our neighbours in Malaysia to procure spare parts or even whole Kawasaki motorcycles. The number of Japanese motorcycles in Singapore are dominated by the likes of Yamaha, Honda, and even Suzuki and if you wanted a Kawasaki motorcycle, you'd probably have to get one indented from a local parallel importer or bike shop. So before you get all excited over the 2022 Kawasaki KLR650 - be prepared that this ADV bike might never actually reach our shores.
Now on the the first-look review of the 2022 Kawasaki KLR650:
Engine
For this new refreshed model, rather than, say, shoehorning in the parallel twin from the Versys 650, for example, Kawasaki simply added DFI fuel injection to the previous model's tried-and-true 652cc liquid-cooled single. Kawi also made a few tweaks it says boosts midrange torque, such as revised intake and exhaust cams and a narrower exhaust pipe with smoother bends. A certain portion of KLR Nation (you know who you are) should warm up their "back in my day" stories, as Kawi also seems to have fixed The Doohickey; the cam chain guide is said to be stronger, made from new materials, and with a new shape.
The KLR's gearbox is still stuck with just five gears. But revised third gear dogs, a new finishing process on the fourth and fifth gears, and new thrust needle clutch release bearings should make things a bit smoother and more robust in demanding riding conditions. Speaking of which, suspension both fore and aft is stiffer, the 300mm single front brake disc is 20mm larger than before, and the 240mm rear disc is 1mm thicker for better heat dissipation.

KLR650 brakes
Brakes on the previous KLR650 were a weak point; a larger 300mm front disc with optional ABS should help. 
New "dual purpose ABS," developed in partnership with Bosch, allows for some wheel slippage; Kawasaki says that this results in a natural braking feel off-road, while the on-road feel is "like normal ABS with a less sensitive setting." It's unclear whether ABS is switchable, but purists can rejoice, as it's optional on the standard KLR650.
Black rims holding tube-type tires are said to be stronger than before, with larger axles. The swingarm is 30mm longer with a 2mm-longer pivot shaft, improving the KLR's stability and highway road manners. Foot-pegs are pushed out 10mm to match the 10mm-wider handlebar, and both are rubber mounted for buzz-free comfort on those long slogs in between the dirty bits.

KLR cockpit
The 2022 KLR's cockpit: a new LCD instrument, wider, rubber-mounted handlebar, wider mirrors, a taller, two-position adjustable windscreen, an integrated accessory mounting bar, and two optional power sockets (standard on the Adventure and Traveler models).
At its core, however, the KLR is still a no-frills adventurer. Despite its new LED headlight and pumped-up generator, the 2022 KLR650 still only manages 80 watts of available power for accessories like heated grips and a GPS. Its 6.1-gallon fuel tank, reshaped for a comfortable fit between the knees, will carry you well off the beaten path, and the new LCD instrument includes a gas gauge in addition to two tripmeters and a clock, but no tachometer.
There will be two standard 2022 KLR650 models, one with ABS and one without, as well as two travel-ready models, the KLR650 Adventure and the KLR650 Traveler. The Adventure comes equipped with a set of 21-liter hard plastic top-loading side cases by Shad; LED auxiliary lights; engine guards; and two power sockets, one standard cigarette lighter adaptor and one USB. The Traveler comes with two power sockets and a 42-liter plastic Shad top case large enough to fit an off-road-style helmet.

2022 KLR650 Adventurer
The 2022 KLR650 Adventurer (shown in Cypher Camo Gray) comes with engine guards, auxiliary lights, and Shad side cases. Shad top case is standard on the KLR650 Traveler model.
Pricing for the 2022 Kawasaki KLR650 (Singapore pricing TBC if available - Prices below are for US market)
At $6,699 for the non-ABS model, $6,999 with ABS, and $7,399 for the Traveler, Kawasaki has managed to hold true to one of the most endearing aspects of the KLR650′s personality: a reasonable price-tag.