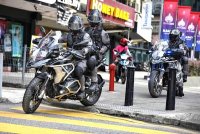 The Special Action Unit (UTK) is a special team within the Royal Malaysian Police's (PDRM) elite team that has specialise expertise as a tactical assault team. Now the motorcycle special team known as Unit Tindak Khas (UTK)  or Rapid Assault Team (RAT) has received 24 new units of BMW R 1250 GS added to their fleet.

The German-made adventure motorcycle by BMW is the latest asset of the PDRM with the ability to coordinate operational skills. It meets the criteria required by the RAT whom are specially trained in the tactical handling of two-wheeled vehicles in any situation.

These team members are also selected based on their abilities and skills in accordance with their assignment as a fast-moving assault team, especially in the built-up area scenario. PDRM's goal for the RAT squad is as a force multiplier on existing 'special operations' capabilities to address the threat of terrorism and high-profile serious criminal activities.

The new BMW R 1250 GS will certainly be up to the task and helps the RAT to look the part. Do you think the Malaysian or Singaporean police are cooler on their motorcycles? Let us know in the comments below!