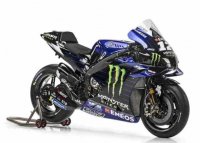 Yamaha Singapore Official Distributor

Hong Leong Corporation - Yamaha Motor Singapore
Address: 178 Paya Lebar Rd, Singapore 409030
Phone: 6749 0588

 Click HERE to ENQUIRE now on ANY Yamaha Motorcycles! Special price for SBF members! 


After finishing 2nd in the MotoGP Constructors Championship in 2020, even after experiencing engine troubles, Yamaha will be looking to win the Constructors Championship in 2021.
For 2021, Yamaha have changed their lineup for their charge in 2021 to win the Riders Championship and the Constructors Championship, as they haven't won the Riders Championship or the Constructors Championship since 2015.

With that end game in mind, Yamaha has recently unveil their 2021 Yamaha YZR-M1 to much fanfare, and although not publicly available for sale, Yamaha has a road-going version of this motorcycle called the Yamaha R1M - which you can purchase through Hong Leong Corporation.
Anyway, back to the YZR-M1 and the 2021 MotoGP season, the new Factory Yamaha lineup no longer features the 'The Doctor' and will be the first time since 2012 that Valentino Rossi is not racing for the Factory Yamaha MotoGP Team.

The 7 time MotoGP World Champion is being replaced by the young French prodigy, Fabio Quartararo. Fabio won three MotoGP races in 2020, but fell short at the final hurdle when challenging for the MotoGP title and finished 8th in the 2020. Overall, "El Diablo" has finished on the podium 10 times for Yamaha in their Petronas Yamaha Sepang Racing Team.
'It is great that Valentino continues, and he will still be on a Factory bike so he will still get full support. But, he will be next door. Which will be strange but hopefully the Petronas Team will be good for him" said Lin Jarvis on Valentino Rossi's move to Petronas
Partnering Fabio is still the Spaniard, Maverick Vinales. Maverick won one race in 2020 and finished 6th in the MotoGP World Championship. "Top Gun" has raced for Yamaha since 2017 and has won 7 races in Yamaha blue and finished on the podium 20 times for Yamaha. Maverick has always meant to be the future for Yamaha since he replaced Jorge Lorenzo, but he has never managed to take the title challenge to Marc Marquez, as the best MotoGP Championship finish Maverick has finished in is 3rd.
'By keeping Maverick and signing Fabio we have this young superstar rider lineup in 2021', Lin Jarvis said on signing Fabio and Maverick for the 2021 MotoGP season.