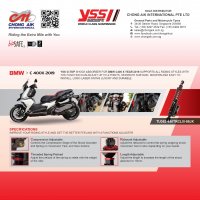 One of the most common modifications that bikers do to their new bikes upon collection is to upgrade the suspension. Most, if not all bikes are built to a certain budget and have to cater to the mass market when it comes to comfort, handling, and budgetary constrains. This is where aftermarket players such as YSS come into the picture, to offer a value for money, well researched and developed product to the consumer who is looking for that little bit better performance, durability, and looks of course!
YSS Suspension products is distributed in Singapore by Chong Aik International Pte Ltd

YSS Suspension has just launched their promotion video for 2021 and it gives a very good look behind the scenes at what the brand is about, how it has developed over the years, and what it invests into the business to keep YSS at the forefront of this extremely competitive market.
Aside from Ohlins (which let's face it is VERY pricey!), YSS would be the other go-to brand among many in South-East Asia, and this is for good reason!
About YSS Suspension:
YSS is the largest producer of after market motorcycle shock absorbers in the world, and its range is constantly expanding. With a 270 strong team, they manufacture over 2 million shocks per year, with a plethora of products to suit all tastes and budgets. Since its establishment in 1983, YSS has become renowned for its use of high quality components and cutting edge technology. Every part that goes into a YSS shock is designed, manufactured and tested in house at the YSS factory in Thailand. YSS has achieved TUV, KBA and ISO accreditation for its consistency in producing innovative and excellent products, and as a testament to this the entire range comes with a full one-year warranty.
Engineered to the ideal specification for each bike, YSS shocks come ready to install straight out of the box, without the need for further adjustments. Additional features are available depending on the bike or scooter; threaded spring pre-load adjustment, high and low speed compression adjustment and a 60 click rebound adjustment are just a few that YSS shocks have to offer, enabling riders to tailor their shock to their own personal requirements.
A strict testing process is used at the YSS factory to check that the shocks meet OE specifications, with each one being specially heat treated for extra durability and strength. Shot peened for a professional finish, YSS shocks are not only a product of outstanding performance, but they also look attractive on your bike.
If you're looking for a suspension upgrade for your motorcycle, chances are that YSS makes a model-specific variant for your bike so you can install it without worries! Whether you're looking at a lower-end plug and play unit, or one with an external canister with controls that you can tweak, YSS has you covered!
Do contact their exclusive Singapore distributor to make sure you are getting the authentic product and fantastic after-sales service!
YSS Suspension products is distributed in Singapore by Chong Aik International Pte Ltd
Quote "SingaporeBikes.com" when you contact them to let them know we sent you!

34/36 Desker Road, Singapore 209566
+65 6297 2532

9am-6pm | Mon-Fri

9am-5pm | Sat
Beware of counterfeit YSS shock absorbers and always look out for Chong Aik's code of authenticity number "651" before purchase