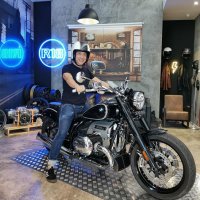 BMW Motorrad Singapore has recently announced the delivery of the first unit of the BMW R 18 in Singapore and this unit was purchased by Mr Yong. In addition to being the first unit to be delivered on our shores, this R 18 was also not any ordinary R 18 but in fact the BMW R 18 First Edition.

The First Edition differentiates itself from the other normal R 18s by having double white striping artwork  and chrome design elements to give it an even greater tribute look to motorcycles of the past.
Powered by BMW's most powerful boxer engine ever built, fuel your soul with the BMW R 18 First Edition - A timeless classic for pure emotion on the road.
Congratulations once again to Mr Yong, the proud first owner of the BMW R 18 First Edition in Singapore!
To find out more about the BMW R18, please visit BMW Motorrad Singapore's website here: https://www.bmwmotorrad.com.sg/en/models/heritage/r18.html
Or alternatively, you can visit their showroom at 315 Alexandra Road. Remember to mention that you are a member of SingaporeBikes.com (SBF) to get even better deals and discounts!