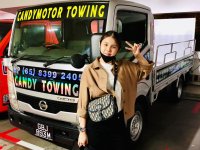 CandyMotor, one of Singapore's most established and popular bike accessories shop, launched their towing service as an additional arm of the business just 1 week ago on the 12th of January 2021 with an announcement made on Facebook. Just barely 5 days since that announcement however, they have had an incident with a customer that has hogged headlines all over Facebook and various riding groups today (17th January 2021).

Apparently, based on various sources that we have seen, a customer (Mr Yusof) reached out to CandyMotor on Sunday morning at 9am to request for a tow at 10am at Tampines Street 22. CandyMotor being ever efficient, reached the location at 930am instead of the initial estimate time of 10am only to be faced with a cancellation request from the customer.
Said customer then proceeded to block CandyMotor's towing number from WhatsApp and no further correspondence was had, and there was no offer of payment even though the towing truck has arrived at the location as requested.
CandyMotor in due frustration (which is completely understandable) then proceeded to post on Facebook about the incident and at 1230pm, the said customer reached out to CandyMotor and threatened legal action under the PDPA act as his phone number was published within the screenshots of the conversation. CandyMotor has since hidden the customer's phone number in their subsequent screenshots.
You can see the conversation screenshots attached:
The original post on Facebook has garnered over 300 comments and over 300 shares as of the time of this publication and has gone viral with bikers in Singapore divided over who is in the right and who is wrong.
From our unbiased perspective (SBF does not have any ties to CM or Mr Yusof),
What the customer could have done better:
He could have offered a small token of goodwill payment for the trip made down by the towing team although the towing was not required in the end
He could have followed up with CandyMotor promptly when the service was not required so as not to incur time and fuel wasted by the towing team
Not block the CM team but instead engage with them on a suitable settlement for both parties
What the CM team could have done better:
Not publish the customer's contact details as this is in violation of the PDPA act
Follow up with customer from another number privately
Require pre-payment before dispatch to customer's location
Put SOP's in place to prevent or reduce instances of 'aeroplane' customers
As a business, there will always be such pitfalls and 'bad' customers - to take it in their stride and learn from this
It is very rare in any incident for any one party to solely take all the blame and responsibilities and from this, we can see that both parties could have taken certain steps to mitigate this issue.
What do you think? How would you react if you were in this situation? Let us know in the comments section below!
P.S. If you ever need a tow, SBF has a consolidated list of towing services around Singapore so that you will never be left stranded! You can find the List of Motorcycle / Bike Towing Services in Singapore here:
P.P.S. Support Ms Candy and her team and show them that not all bikers are 'pilots'!

We have reached out to Mr Yusof for his side of the story and this thread will be updated with new information at a later date.