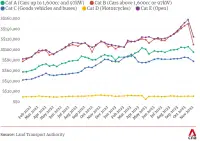 COE premiums fall across the board; Cat B down by S$40,000


Vehicles are seen on a busy road in Geylang, Singapore. (File photo: CNA/Jeremy Long)
SINGAPORE: Certificate of Entitlement (COE) premiums closed lower in all categories in the latest bidding exercise on Wednesday (Nov 8), with Category B premiums dropping by S$40,000 (US$29,500).
Premiums for all car categories hit new highs in the last bidding exercise, however, premiums for Category B – for larger and more powerful cars – dropped by 26.7 per cent to S$110,001 from S$150,001.
Open Category COEs, which can be used for any vehicle type but end up being used mainly for large cars, also saw a significant drop, with premiums falling by 20.9 per cent to S$125,011 from S$158,004.
For Category A cars, or those 1,600cc and below with horsepower not exceeding 130bhp, premiums closed at S$95,689, down from S$106,000 in the last exercise.
COEs for commercial vehicles, which include goods vehicles and buses, fell to S$78,001 from S$84,790 in the previous bidding exercise.
Motorcycle premiums closed at S$10,889, down from S$11,201 in the last exercise.
A total of 3,133 bids were received, with a quota of 2,411 COEs available.
The Land Transport Authority (LTA) announced last week that the COE quota for the November 2023 to January 2024 quarter would be increased further.
An additional 1,614 Category A, B and C COEs were reallocated, on top of the 1,895 reallocated COEs announced last month.
This brought the total supply of COEs for the quarter to 14,388.
Analysts said the sharp drop in COE premiums was due to short notice of the additional quota, with the market unable to react in time.
However, they cautioned that the drop is likely a short-term outcome, with more buyers now expected to flock to showrooms because of the lower prices.
"As a result of this sharp drop in COE premiums, the car dealer market will start adjusting their package prices downwards. We're likely going to see more orders being made because of this," Singapore University of Social Sciences (SUSS) Associate Professor of Economics Walter Theseira told CNA938.
"I think COE prices will likely be volatile for a while – perhaps for the next couple of rounds. As the market adjusts, this drop may not be sustained."

Article Credits: CNA

Source: Land Transport Authority