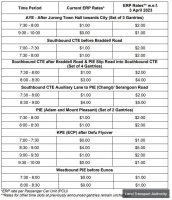 ERP rates to increase by S$1 at 7 expressway locations from April 3


TODAY file photoAn Electronic Road Pricing gantry in Singapore.
SINGAPORE — Electronic Road Pricing (ERP) rates will increase by S$1 at seven expressway gantries for 16 specified time periods to ease morning traffic congestion, the Land Transport Authority (LTA) said on Tuesday (March 28).
The latest ERP rates review — covering morning time periods — is based on LTA's monitoring of traffic conditions last month, when traffic was observed to have built up on various stretches of expressways.
The price revisions are as follows:

Land Transport Authority
Rates for other previously announced timeslots and gantries remain unchanged, LTA said.
"With these adjustments, the number of locations and timeslots charged is still lower than the number charged pre-Covid," it added.
LTA said that it will continue to monitor traffic speeds and congestion levels closely to assess if ERP rates need to be adjusted further.

Article Credits: TodayOnline