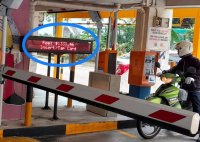 Motorbike rider gets charged $1,300 parking fee at Jurong West car park

"Came across this biker stuck at gantry den he move aside and let me go and tailgate me.. at the carpark gantry he was stuck.. All vehicle can pass the gantry only his bike got issue yet the rider complain gantry got problem.. parking fee shows $1331.46!!?" a car driver wrote
SINGAPORE: A car driver was shocked when he saw a biker getting charged a whopping $1331.46 as he tried to exit a car park. Netizens say the biker could have accumulated fees or an error caused the hefty fee.
An anonymous sender took the photo below that was posted on the SG Road Vigilante public group Facebook page on Sunday afternoon (Sept 3).

Writing that he had witnessed this at a multi-storey car park at Jurong West on the same day, he added, "Came across this biker stuck at gantry den he move aside and let me go and tailgate me.. at the carpark gantry he was stuck..
All vehicle can pass the gantry only his bike got issue yet the rider complain gantry got problem.. parking fee shows $1331.46!!?"
His post has since been shared and commented on over one hundred times.
Some Facebook users guessed that the motorbike rider could be a repeat tailgater.

Others guessed that he is a gantry evader.

One wrote, "Let me explain why it shows a fee of $1,331.46. Some time ago, this motorcyclist entered the car park then he evaded the parking barrier. Now he returns back to the same car park. That's why."

"Maybe he go in but never go out the proper way. So accumulated till 1k+," wrote one.

"Probably never pay for parking, always go through the side. Now got a lot of car he cannot play stunt so he try to go but this happen," another added.

Someone else did the math, writing, "One day 1.30 for bike….. Probably here for almost 3yrs?"

"Think he did not exit thru gantry properly previously, the system will treat it as he is still parked inside, so system identified his iu and accumulated the time and charges," another chimed in.

One person suggested it could have been a system error.

Another agreed, adding, "Gantry problem. Don't hate motorcyclist."

Another article in AsiaOne said:
Is this a technical error, or an accumulation of unpaid fees?
A photo shared on the SG Road Vigilante Facebook page showed a motorcyclist being charged more than $1,330 to enter a multi-storey car park at Jurong West Street 75.
The incident happened last Sunday (Sept 3) at 1.50pm, according to a Facebook user who shared the social media post.

"Came across this biker who was stuck at gantry. He then moved aside, let me go and then tailgated me." said the netizen, adding that the other vehicles had no issues entering the car park.
The Facebook post has since garnered over 120 comments.
Several netizens had their own theories on why the motorcyclist was charged such a high amount to park his vehicle at the car park.
"Some time ago, this motorcyclist entered the car park then he evaded the parking barrier. Now he returns back to the same car park. That's why," a netizen said.
Other netizens agreed that this motorcyclist is a serial tailgate offender.
"How many years has he never paid for parking at that MSCP?" one of them said.
"Parked for one year ah," another netizen quipped.
Yet another netizen offered: "Maybe there's a glitch in the system, we never know. So don't judge."
AsiaOne has contacted HDB for more information.
In April 2019, a delivery driver racked up a parking charge of more than $3,100 at Jewel Changi Airport.
A spokesman for Jewel Changi Airport Devt explained that it occurred because the driver's previous exit from the area had not been registered.
"There was no record of the driver leaving the car park, and hence the parking charge snowballed until the next visit, which took place on April 24," he said.
The spokesman added that all drivers are encouraged to maintain "a safe distance" from the car ahead to ensure that the parking system successfully records all entrances and exits.
Article Credits: theindependent.sg and asiaone.com