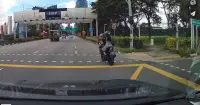 Do you remember all the lessons, trials, and tribulations that you went through during your Class 2B days? And how your Class 2B license was so precious that after going through months of taking public transport to the driving centre you swore that you would never do anything to risk losing it? Well this rider apparently does not feel the same way.
Making its round through social media today is a video of this newly minted rider (P-Plate and all) - making TWO immediate failure mistakes within minutes of each other. On top of that, instead of apologising and acknowledging his mistake, he further went ahead to make obscene gestures at the driver of the car cam and went on to make the same mistake again at the next junction.

Don't be mistaken, we are not sharing this video to embarrass the rider or take the side of the car driver (we are all riders here too) - But instead we go out of our way to remind riders to KEEP SAFE and practice DEFENSIVE RIDING at ALL TIMES.
If the rider apologised after the first mistake, or not make an obscene gesture at the driver, graciousness might have taken place and this video would not be so viral. It is very likely that this video will catch the eye of a Traffic Police officer and that the appropriate actions will be taken. If the rider is indeed on probation (read: 12 points) - Then a suspension is definitely on the cards.
See below for the full video (and please don't repeat this mistake again):