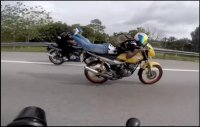 Singapore bikers go "Superman" on Malaysian roads

A series of Youtube videos showing a group of Singaporean motorcyclists performing stunts on Malaysian highways has gotten the attention of social media users. In the videos, focusing on a group calling themselves "Kapchai Singa", riders are seen riding above the highway speed limit and pulling off the notorious "Superman" riding position.
In an article by The Straits Times, screencaps show a group of Singapore plate motorcycles being ridden in a reckless manner. No identities or plate numbers were concealed in the videos, which at the time of publication remains accessible to the public.
Riding a motorcycle in the prone position on Malaysian roads attracts a fine of between RM5,000 and RM15,000, and a five year jail term. The offence falls under Section 42 (1) of the Road Transport Act 1987 covering reckless or dangerous driving.
Approached for comment by The Straits Times, a Malaysian police representative said they are aware of the group's action and the matter has been forwarded to intelligence department for further action. However, the unnamed rider in the video remains unapologetic for the group's behaviour on the highway.
"Safety wise, it remains a concern as we know it is illegal and endangers other road users. But it depends on the traffic condition, of course," said the rider. "We only do it on clear roads in Malaysia," he said.
Article Credits: paultan.org
Join SingaporeBikes on Telegram for more of the latest news, special offers, reviews of motorcycles, and more!