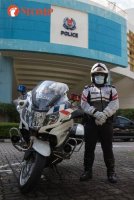 When a video of a Traffic Police (TP) officer helping an old lady cross the road made its rounds online, many netizens took to social media to share the heartwarming act.
The incident, which happened along Cantonment Road on Nov 21, was posted on SG Road Vigilante's YouTube page and has since garnered more than 58,000 views.
Stomp got in touch with the Singapore Police Force (SPF) and found out that the TP officer in the video is 37-year-old Staff Sergeant Fathur Rahman Bin Rohani, who has been serving in the SPF since 2009.

When Stomp spoke with Fathur via email, he shared that he was concerned when he first saw the elderly lady walking along the center divider with an unsteady gait. 
When he noticed there were many vehicles travelling past her, he immediately decided to stop and help her.
"My main concern was her safety. I had to help her to ensure that she crosses the road safely," Fathur said.
"As soon as I approached her, I suggested that she hold onto my hand.
"Initially, she was apprehensive. But when she understood my intentions, she followed me closely while I directed the traffic away from us.
"After we crossed the road safely, she thanked me and I gave her some road safety advice.
"I'm glad that I managed to help her cross the road. The safety of all road users is always my priority."
Fathur shared that this was not the first time he encountered elderly people who needed help while he was on duty.
"Once, while I was patrolling, I came across an elderly uncle who could not meet the timing of the traffic light as he was walking slowly," Fathur said.

"He had just passed the center divider when the pedestrian light turned red. I immediately directed the vehicles in view to stop so that the uncle didn't have to rush to cross the traffic light.
"I always feel very happy and accomplished whenever I help someone out."
Fathur added that when his family members recognised that it was him in the viral video, they praised him for his actions.
While such encounters gave Fathur a sense of achievement, he made sure to note that there are also challenges that come with being a TP officer.
"Weather, road conditions and having to look out for traffic offenders while ensuring the safety of other road users are some of the challenges that I face daily. The risks for all road users are real," Fathur said.
"I advise all pedestrians, regardless of age and health, to use the overhead bridge or controlled pedestrian-crossings for their own safety.
"For motorists on the road, please remain focused while driving or riding. Do not speed and do not use your communication devices while on the move."
Due to this good deed, Stomp visited the Traffic Police HQ and had a photo opportunity with Fathur and he was pictured with a BMW R1250RT - the latest bike to grace the Traffic Police fleet.

What do you think about the new BMW bikes used by the Singapore Police Force? They'll now be able to keep up with almost anything on the roads!
The specifications of this BMW 2019 R1250RT are:
ENGINE
Type: Horizontally opposed twin
Displacement: 1254cc
Bore x stroke: 102.5 x 76mm
Maximum power: 136 horsepower @ 7750 rpm
Maximum torque: 105 ft/lbs @ 6250 rpm
Compression ratio: 12.5:1
Valvetrain: DOHC w/ dual profile cams, 4vpc
Cooling: Liquid and air