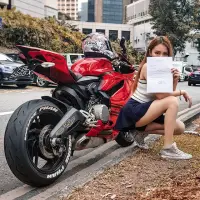 The article that was published yesterday on the final court verdict between local blogger and influencer Vaune Phan and owner of another motorcycle workshop in Singapore - Mark Yeow was one of the most read articles within the Singapore biking community in a long time. It is a classic tale with one party happy that justice has been served, and the other party feeling exactly the opposite.


Vaune Phan outside the State Courts
What made the story so talked about and put everyone in awe is that the whole incident was started between Vaune and another workshop, Revology Bikes. And that the amount of damages awarded to Vaune is one of the highest amount even meted out by the local state courts and could very easily break the livelihood of any individual. Until now however, the news that we have received are only from the local news media, but Vaune has now shared her side of the story. We've reached out to Vaune for her permission to syndicate what she has written, and the excerpt below is reproduced with her permission.
Some takeaways from what she has mentioned:
The total amount awarded by the state courts is higher than the published S$60,000
The total actual amount is actually S$104,427.80 - S$40,000 in damages, additional S$20,000 for malicious and aggravated damages, S$38,000 in legal costs, and a further S$6,427.80 in disbursements 
There is an injunction against Mark to remove any past, current and refrain from future defamatory posts against Vaune
From Vaune's perspective, she had to go ahead and take legal action after Mark's 'relentless' attack on her and she had to do what she did to protect herself, her sponsors, and her livelihood.
From Mark's perspective, he was standing up for a fellow industry partner and out of his demand for justice, would not back down when being 'bullied' by local influencers.
It's hard to say who's right and who's wrong, but the state courts have given their verdict. We understand that Mark will be appeal the State Court's decision and the case is expected to go to the Appeal Courts to be reviewed again.
Vaune has stated that she will be donating the damages to her to a local charity after her legal fees have been paid off.


The "Gap" that started it all
Below is Vaune's thoughts on the matter on her personal blog - Vaune Phan (reproduced with permission):
Quote

 

It can be terrifying to know that a person whom you've never met or even know existed could be so relentless in his acts of malice towards you, attacking the work you do and down to your personal life.

But for those who, like me, have been a victim of defamation, can rest assured that the Laws of Singapore does not tolerate such behaviours with this Judgement issued by the State Courts that sets an important precedent.

Here's the full story in its whole truth, and how the person who defamed me was ordered by the Court to:

1.     Pay a total of S$104,427.80 in damages and legal costs and

2.     An injunction to remove all his past, present defamatory posts made towards me and to refrain from doing so in the future

As some of you may know, after my experience with Revology Bikes that has been resolved after the SCT ruling (you can read the story here), I was subjected to intense defamatory posts online by this unknown person by the name of Mark Yeow (the defendant in this suit. I also later found out that this person was actually brought to Small Claims Tribunal in 2013 by another party which you can read here). 

Months after months, he was persistent in his attacks towards me, my work, my clients/sponsors whom I work with and he simply refused to stop. 

It was actually rather scary to see someone behave in such a manner like he has some sort of personal vendetta against you, especially when you've never met or know this person. Furthermore, he was never a part of the Revology Bikes incident so it was absolutely bizarre seeing him on the loose this way.

When he refused to remove his defamatory posts and continued them, to protect myself as well as the clients that I work with, I felt I had no choice but to take legal actions against him for defamation, in hope to bring his excessively destructive actions to a stop.

As of 15th December 2020, I'm so thankful to share that I've been finally vindicated.

Deputy Principal District Judge Wong Peck found the defendant to have acted in malice, and delivered judgment on my case in open court. She ruled that:

1.            The defendant's 4 internet posts were indeed defamatory of me.

2.            There was no valid justification or other defence for the defendant's defamatory posts.

3.            The defendant is ordered to immediately remove his 4 defamatory posts and is further ordered not to make such defamatory posts about me in future.

Quoted from the Judgement

4.            The defendant is to pay me in total of S$104,427.80, with the breakdown as follows:

         a.     S$40,000 in general damages.

         b.     In addition, because the defendant's actions were motivated by malice against me, the defendant is ordered to pay me a further S$20,000 in aggravated damages.

        c.       Finally, the defendant is ordered to compensate me a further S$38,000 in legal costs and S$6,427.80 in disbursements I have incurred.

The total sum of S$104,427.80 in damages and legal costs that the defendant is ordered to pay does not including interest (which will continue to accrue until full payment is made).

I believe this may be the highest award of damages and legal costs a social media personality has received from the Singapore Courts to date and I'm very very thankful for the due justice that was carried through. I would however like to stress that social media personality or not, NO ONE should be subjected to defamation in any form.

I hope this incident helps the defendant realise that there are other less expensive and foolish ways to get a girl's attention.
What do you think? If we have a jury system in Singapore - would you side the plaintiff or the defendant? Let us know your thoughts in the comments section below!


Vaune Phan with her Ducati Panigale


Vaune Phan with her Ducati Panigale