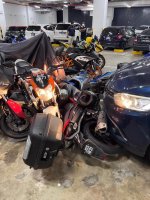 A 41-year-old man was arrested for suspected drink driving after causing a collision at a carpark in Jalan Sultan on early Friday morning (Jan 29 2021). More pictures and full video below of the altercation between the suspected drunk driver and the Traffic Police!
Kudos to our Traffic Police for keeping calm despite the situation and the driver being uncooperative!

The police said they were alerted to an accident involving a car and five motorcycles at the carpark of 500 Jalan Sultan at 5.01am.
No injuries were reported.

The driver can be seen repeatedly brushing off the police officers and refusing to budge from his car seat.
A circulated photo also shows the affected motorcycles in a heap in front of the car.
The car driver was subsequently arrested for suspected drink driving.

Police investigations are ongoing.
It's so painful to see all those motorcycles being crushed by the actions of a supposedly drunk driver. Never drink and ride, or drive for that matter. Please stay safe on the roads!
Full video: