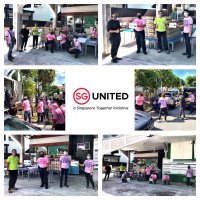 As we enter the 2nd year of the pandemic in Singapore, it is good to take heed of the selflessness and generosity that our fellow human beings have done over the past year, to help others in time of need and giving back to the community.

Within the motorcycle industry here in Singapore, established company Chong Aik International Pte Ltd is one such company that has continuously given back to society via their charity drives and have gone to great lengths to ramp up their efforts during the COVID-19 pandemic situation here in Singapore.
Through their charity arm, Wheels of Love (Facebook) - Chong Aik looked towards B. Halal, purchasing daily necessities for the less fortunate. We couldn't have said it better ourselves, from Chong Aik - "We wheel together to bring love to our less-privileged community through talent volunteerism!"

So what do you get when a nice Chinese towkay hears the story of a makcik who has all these Hari Raya cookies but nowhere to sell them?
Mr Steven Teh from Chong Aik buying over 300 bottles of Icebox cookies on the B. Halal app and donating it to the needy, with the help of our good friends at Muhammadiyah Association of Singapore.

Chong Aik's staff were out in force, picking up the cookies and then delivering the treats, along with over 2,000 bottles of water to the Muhammadiyah Association of Singapore.
All three parties didn't know each other before this Ramadan, and have come together to do good for those who need help.

We hope this can set a good example of those within the motorcycle industry, established businesses, and also fellow bikers, to always think of our blessings and reach out to help the less fortunate in our society, so that we can all make it through these tough times together.
We'll be checking in with Chong Aik on when their next charity drive will be so stay tuned if you'd like to help out. Details to follow!