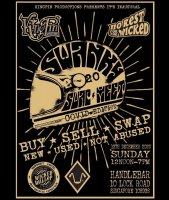 Kingpin presents the COVID-edition, socially-distanced Swanky Swap Meet!

You've been craving for events and so have we. For the swanky swap meet to go on smoothly, let's play our part.
Location: Handlebar @ Gillman Barracks, 13th December, Sunday. 50 pax per time slot - 12pm to 3pm and 4pm to 7pm.
Overstocked with motorcycle parts you need to swap out? Or looking for custom, pre-loved parts to complete your work of art?
RSVP at the link in our Event Calendar here:
Get up close with the all new BMW R18 provided by BMW Motorrad as well as other sponsors such as Motorwerks, Shell, and many many more!
Hope to see you there!