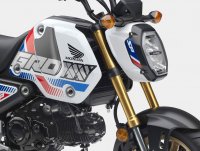 Late last year Honda gave us word that a new, redesigned MSX 125 would be hitting most parts of the world as a 2021 model. Changes revealed on the global model gave some hints though, like the addition of a fifth gear, a new headlight, Euro 5 certification for the engine, and a full styling revamp, but we were left to ponder what the price tag or when would it be available.

As noted in last year's Euro release, the MSX 125 will also have new bodywork and a Euro 5-spec engine with a five-speed gearbox. As we'd hoped, the MSX 125 will get those major revisions, including a reworked 125cc engine and a five-speed transmission. The two-valve single-cylinder mill has a higher compression ratio (now 10.0:1) and meets Euro 5 emissions standards, and the addition of the fifth gear gave Honda the opportunity to add a larger 38-tooth final-drive sprocket for a bit more snap.

The 125cc two-valve engine has a narrower bore and longer stroke than its predecessor (50mm x 63.1mm compared to 52.4mm x 57.9mm) as well as a higher compression ratio of 10.0:1 (9.3:1 previously). Another big part of the makeover for the 2022 model year is the new bodywork with pared-down styling. Because the MSX 125 has always been about easy customization, owners can get at the four main body panels via six big fasteners, allowing them to pop the panels off the steel backbone frame and mix and match colors for a simple way to swap looks. Also on the styling front is a new look for the engine, exhaust, wheels, and swingarm, which all get blacked out for a more up-to-date vibe; the wheels keep their signature 12-inch size, but feature a new design with a five-spoke pattern.

You might notice a subtle change with the seat too; it's flat rather than stepped and gets thicker padding. With that comes a new subframe, though the frame and suspension remain unchanged, and Honda is quick to point out that the saddle is still an easily cleared 30 inches off the tarmac. You'll also see a more robust LCD display with provisions for a gear change indicator added to the speedo, tach, fuel gauge, clock, and twin tripmeters. Dig even deeper and you'll find out that the mini moto's 2022 iteration (the MSX 125's third) now has a replaceable oil filter, ditching the previous oil spinner and screen for easier maintenance. There's a redesigned exhaust pipe and muffler now designed as two separate parts, which should give customizers way fewer fits.

For 2021, the MSX 125 has also boosted fuel capacity a smidge to 6 litres.
As a bonus—or at least, instead of an unwelcome surprise— Honda is keeping the price tag in line with last year's model, at a suggested US$3,399 for the base trim in the US market. Boon Siew Honda Singapore currently does not list the MSX 125 in their price list but we'll have a clearer picture of pricing in Singapore once the new revised models starts to hit our shores.

But there are tastier options too, like the new special SP version which sports a gold finish on the fork, wheels, and brake calipers, and tucks in a yellow shock spring out back for an extra pop. Then there's the higher-spec MSX 125 ABS, which again is expected to cost a premium over the base model.

To sum up, the 2022 MSX 125 can be had in Queen Bee Yellow or Matte Black Metallic for the base trim; the MSX 125 SP with its stylish graphics and gold finishes for slightly more; or the MSX 125 ABS, available only in Candy Blue, for a higher premium on top of that. The bikes will be available sometime in 2021 and we will update on availability soon.