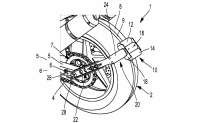 Automotive tyre manufacturer Michelin has just patented a device that might take all of the struggles out of big bike ownership (or even small bikes for that matter).

The gadget is powered off its own Li-ion battery and features a couple of small rollers that are mounted in a casing. The casing is held onto the back wheel by a bracket – much like the number plate holder on a modern bike. The rollers are powered by small electric motors, and by moving the rollers they rotate the wheel in either direction.

The motors in the device are reported to be 3.6v items, making them big enough to exert between two and four Nm of force onto the back wheel. This is said to be enough to allow the system to move even the heaviest of motorcycles at a very slow speed.
It's not totally clear how the system detaches from the tyre under normal riding conditions, or if there is a solenoid in the gearbox that allows the rollers to free-wheel. The current diagrams that are shown in the patent document does not seem like a very elegant implementation of the device but as with most inventions, they will need time and several revisions to get perfect.

Look, it's not a total earth-mover in terms of technical scope, but as any motorcyclist who is vertically challenged will tell you; quite often the hairiest part of riding a big adventure bike is moving it into a parking space! And we hardly think anybody would want to own a motorcycle with dolly-wheels sticking out the rear just to aid in reversing the motorcycle!
With the ever increasing amount of technology going into motorcycles, and with the invasion of electric motorcycles into the mainstream space such as the Honda PCX e:HEV and the Scorpio Model X, having a reversing gear on your motorcycle might just become common place as these electric motors are able to 'turn' in both directions without the need or requirement of a traditional gearbox.

Do you think having a reverse gear in your bike would be a game-changer and if this would bring more people into the motorcycling world? Let us know your thoughts in the comments section below!