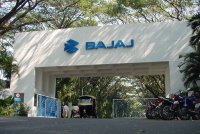 When you think of motorcycle companies around the world and try to rank them in order of which company is the most valuable and has the highest net asset value, you might think of one of the big Japanese brands like Yamaha, Honda, or even Suzuki due to the vast number of motorcycles that they product and sell every year.
Marketers will probably look the other way and value the brands based on their brand equity value, in which the likes of Ducati, BMW might come to mind. But you would be wrong. The most valuable motorcycle company in the world, with a valuation figure of a staggering US$13.6 billion dollars, is actually the Bajaj Auto Group - manufacturer of the popular Pulsar 200 NS here in Singapore.

Bajaj Auto may not have a direct footprint in Europe or North America but it hasn't stopped Bajaj Auto from being named the world's most valuable motorcycle manufacturer at a cool estimated US$13.6 billion (approximately S$18 billion).
One of the largest conglomerates operating out of the world's biggest motorcycle market of India, while Bajaj is beaten by Hero MotoCorp in terms of sales, when it comes to value it comes out on top both domestically and now internationally.
At US$13.6 billion Bajaj Auto generates both a lot of money and a lucrative shareholding having established itself as a major player in 70 different markets, predominantly in Asia where its lower displacement offerings sell in large numbers.

While Bajaj Auto has not had a winner in Singapore after its Pulsar 200 NS launch which was a favourite amongst Class 2B riders as it is the highest displacement Class 2B bike available at that time, its influence is widespread as a result of its 47.97 per cent ownership of KTM AG which - between KTM, Husqvarna and now GASGAS - has seen a strong rise in global sales in recent years.

"The company's sharp focus on the motorcycles category and its unwavering commitment to strategies of differentiation as well as the practice of TPM combined with global ambitions have today made Bajaj the most valuable two-wheeler company across the globe." eponymous Bajaj Auto Managing Director Rajiv Bajaj said.

It's influence is set to grow too, following the recent news Bajaj Auto has linked up with Triumph to help develop and manufacture a range of low-to-mid displacement models in the 300-600cc bracket that will be sold globally.
Now, would you have expected the largest motorcycle group in the world to be based out of India seeing how we don't see much of their motorcycles here in South-East Asia? This certainly is a fun fact that you can share with your friends. What do you think Bajaj did right or wrong in Singapore and will they be able to make a comeback over the next few years?
Let us know your thoughts in the comments section below!