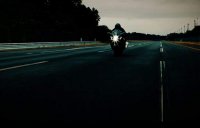 Suzuki Motorcycles has just released a short teaser video on its YouTube channel that finally shows us the new 2021 Suzuki Hayabusa. It's a fleeting glimpse, but enough to tell us that this is definitely an updated version of the legendary high-speed machine. The Suzuki Hayabusa has been held in high regards by bikers worldwide as one of the fastest production bikes ever made and the Hayabusa has been akin to most Ferraris - the poster-bike of any teenage boy's dream hanging on his bedroom wall.
Scroll to the end of the article to watch the video and also how you can sign up for the official launch of the all new 2021 Suzuki Hayabusa!

The video seems to be set at a speed-bowl type test circuit, the first clue as to the nature of the machine, which also gives us a sneak preview as to how the bike will sound at full pelt.

The short clip also shows the analogue speedo (don't worry there is a TFT in there too) being forced past the 180mph (290km/h) mark, as the bike is ridden in what can only be described as its natural habitat. We are certain that the all new Hayabusa will be capable of speeds 300km/h+++, not that we condone it. As mentioned, the bike doesn't just have a TFT dash, instead, duties are shared between two large analogue dials on either side, with a smaller TFT between them. It's a very neat looking unit and it gives us some clues as to the bike's electronics.

The top of the TFT bears the letters S/D/M/S, meaning the new Hayabusa is equipped with multiple engine power modes, although how many is unclear. It also features a quick-shifter that can be turned on or off and there are other settings on the screen too - although they are obscured by the bike's key!

Another interesting point is the text towards the end of the video. It features the words 'Perfectly poised'. It could just be Suzuki bragging about the job they've done with the new bike, but we think it's a clue as to another 21st-century update. The new bike is being rumoured to be featuring a very trick new suspension system that allows for not just damping and rebound adjustment, but also for more wide-reaching alterations too.

Watch the full sneak peak of the 2021 Suzuki Hayabusa here:
To catch the first glimpse and look at the all new 2021 Suzuki Hayabusa, be sure to RSVP and register for Suzuki Global Motor Salon Virtual Motor Show that will be happening on the 5th of February 2021, registrations are open now!
OMG!!! Are you as excited as we are?!