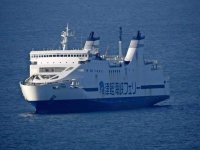 Join us on the SingaporeBikes.com Official Telegram Group to get the latest news and promotions straight to your phone!

According to news reports published there, the Seahorse Ferry Company based in Thailand has announced a new ferry route that will ply the oceans between the Sattahip port and the Songkla Port. For overlanders, this means that when passing the border from North Malaysia into Thailand, you can now hope on the ferry and enjoy a 20-hour journey and arrive in Bangkok the next day nice and refreshed.

According to the press release, it mentioned:
"Good news for the southern people of Thailand.  You will now be able to travel to the east without driving far when the Seahorse Ferry Company Limited opens the ferry cruise route from Sattahip to Songkhla, covering a distance of 330 nautical miles (611 km), and with the estimated travel time being 18-20 hours.

This would be compared to travelling over land, which would require a distance of 1,130 km, helping to shorten the distance by 519 km and approximately 23-24 hours of driving. You will be able to spend time sleeping on the ferry.
This project is 100% invested by the the Seahorse Ferry Company by buying a second hand ferry from Hokkaido in Japan.  The ferry is undergoing maintenance at the company's shipyard, Unithai Shipyard Co., Ltd. while it prepares a navigation test route for the final journey. It will begin official testing on the 7th of January 2021, and be opened to the public for normal service by the end of January or February 2021.
In addition,  in the next phase, the company will add a stop at Pranburi District, Prachuap Khiri Khan Province as well. The company is negotiations to find a pier where the ferry will be allowed to dock.
The Seahorse Ferry (imported from Japan, formerly known as Blue Dolphin) weighs 7,003 tons, is 136.6 meters in length, and can accommodate approximately 80 trucks, 20 private cars, approximately 586 passengers.

Do you think think this ferry service will be popular amongst the overlanders that travel to Thailand and want to visit Bangkok? This might be a good alternative as the train route that most riders used to take are now not available to big bikes (or almost any bikes for that matter).
Or would you prefer to tour the 1.1k km route from the Sadao border all the way to Bangkok like a "real" overlander? Let us know your thoughts in the comments section below!