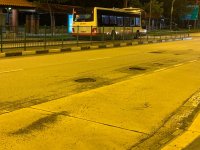 With the rainy monsoon season upon us, there have been more incidences in the news and various biking groups that more and more potholes have been appearing on Singapore's roads. This has also lead to an increase in bikers meeting with an accident or even fatal outcomes as unlike our four-wheel counterparts, a pothole could actually do some serious damage to us motorcyclist.
Especially so in Malaysia, where potholes have been taking the centre stage in news lately, ever since Science, Technology and Innovation Minister Khairy Jamaluddin Abu Bakar met with a minor accident caused by a pothole, and two unfortunate deaths reported after the incident.

We're so used to seeing and avoiding potholes that sometimes we forget how dangerous it can be especially for those who are riding bicycles or motorcycles. 
While statistics in Singapore are not publicly shared, referencing from our neighbours up north we can see that potholes are actually a very serious problem. "A total of 4,091 public infrastructure complaints were received by the ministry and PWD till November 30. From the total, 1,473 complaints were regarding damaged roads. All complaints have been processed and action has been taken by JKR. Almost 200,000 potholes were found and repaired through monitoring and patrols by PWD in 2019 while 64,000 potholes were recorded with action taken as of last June," the statement read.
So, what causes potholes and why are there so many of them during the rainy season?

According to Universiti Putra Malaysia Department of Civil Engineering lecturer Prof Dr Ratnasamy Muniandy, there are several reasons for this. 
Potholes form when there are cracks on the roads, which, over time, joins and causes the road materials to dislodge. 
"There are couple of factors involved in road failure. It can be road design, it can be material design, sometimes construction and not forgetting environmental factors such as moisture and temperature," Dr Ratnasamy told Rojak Daily in an interview in 2018.

In the same year, the Malay Mail wrote an article quoting Public Works Department (PWD), the Malaysian Highway Authority (MHA), the Kuala Lumpur City Hall (DBKL) and the Petaling Jaya City Council (MBPJ) regarding the issue. 
In the article, all four departments have insisted that the standards of roads in the country meets the standards set by World Road Association, of which Malaysia is a member of.
The association specifies clear standards for the design and safety aspects of road.
The departments said that problem occurs when third party contractors are involved.

City Hall had said that 70 per cent of potholes and damaged roads were caused by sub-par remedial works by contractors, especially those hired by utility and development companies.
The other departments echoed the statement. Rapid development also does not help the situation. 
What can be done?

Dr Ratnasamy said that in light of the shortcomings in the road pavement performance, universities worldwide, including UPM, have been working on technologies to make roads better. 
One of the technology the university has worked on is called the Fiber Mastic Asphalt (FMA). 
"Fiber Mastic Asphalt is basically asphalt mixture that has more fiber in it. Fibers basically forms a micromesh. 
"Micromesh is like tiny steel fibers in concrete and so on," he explains. 
FMA helps to prevent the drain down of water and keeps the binder in the mixture for a long time. This makes the road structure itself stronger and more resistant towards environmental elements such as moisture. 
If our roads aren't that bad and meets the standards that most developed countries follows, perhaps it's time to look at technologies such as FMA to make the roads last longer. 
That, and perhaps taking stern action against contractors that damage our roads, might just be what we need.
How to report an incident to the LTA?
If you notice a pothole on the road (or any other road defects) that has recently developed, is large enough to cause harm to a motorcyclist, or will cause danger to other road users, the best thing that you can do as a motorist is to report the issue to LTA immediately for them to take action and to get the issue sorted by fixing the said pothole.
You can do this either via filing a report via the ONEMOTORING app on your phone
MyTransports.SG - Android / Apple
Or the other method would be to contact LTA directly at the hotline below:
Customer service hotline: 1800 2255 582
Have you ever been involved in an accident due to a road defect or pothole on the roads? Please share with us your views and tips for other riders to be safe, especially during this rainy season! Ride safe and defensively!