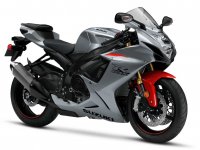 We'll have to wait another year at least for news of a revitalized Suzuki lineup, as the Hamamatsum Japan brand announces bold new graphics for a number of models in its GSX-R, GSX-S, and V-Strom lineups. Which is your favourite colour scheme out of the new launches? We reckon Suzuki going for fresh new colour schemes would at least inject a new lease of life midway through the model year cycle.

Here's the rundown before we commiserate about another new year without a new GSX-R
The top-end Suzuki 2021 GSX-R1000R is available in two variations of metallic black. The GSX-R750 returns for its 10th model year with no changes other than graphics. Yup, it's been around since 2011: Casy Stoner was MotoGP world champ, Marc Márquez was in his first season of Moto2, and Joan Mir was probably prepubescent. For 2021, the GSX-R1000R, GSX-R750, and GSX-R600 are also available in a special 100th Anniversary livery that resembles the look of GSX-RR MotoGP bike (the base-model GSX-R1000 does not get the anniversary treatment). The GSX-S750Z is available in an ABS version and a standard version, each with their own dedicated color schemes. The V-Strom 650XT Adventure, which includes bits from the accessory catalog, like panniers and an accessory bar, joins the V-Strom 650XT. The Adventure version is available in Champion Yellow No. 2, while the base version is available in Candy Daring Red and Glass Sparkle Black.

The 2021 GSX-R750 looks familiar, huh? Suzuki surely knows a 10-year-old design does a disservice to its legacy. You just know there's a contingency inside the factory chomping at the bit to build a new one.
Unfortunately, it's difficult to imagine new graphics will be enough to woo a throng of new buyers.
In other ways, it's been a big year for Suzuki. Joan Mir earned the Hamamatsu brand the MotoGP rider's championship for the first time in the four-stroke era. The last time Suzuki won the championship was in 2000 with Kenny Roberts Jr. aboard the RGV500. The same year, Mat Mladin won the Daytona 200 on the GSX-R750 and his second of an eventual seven AMA superbike titles.
Suzuki's production motorcycles of the time were no less exciting than the on-track action. The outgoing SRAD GSX-R750 was updated for 2000, dropping 27 pounds, and reaffirming its reputation as a best-of-both-worlds bike by producing literbike levels of horsepower while weighing as little as a 600cc supersport. A year later, Suzuki released the first GSX-R1000.
Because of a speedy two-year development cycle, lessons learned in racing were manifested in production machines in no time flat. All that racetrack success really meant something to sportbike buyers—it captured our hearts. These days, it's hard to imagine Joan Mir's achievement will have the same effect on Suzuki's aging lineup—it won't for 2021, anyway.

GSX-S750Z ABS. Anyone else seen leftover KTM 790 Dukes for sale at the same price? Yeah, me too.
Call me naive, but I'm a firm believer in the Field of Dreams model when it comes to motorcycle development—"if you build it, they will come." I'm sure it's a tough sell to convince the higher-ups to spend big bucks to develop a new GSX-R750 when the current one isn't exactly selling like hotcakes. It's a reliable, capable bike, but that's beside the point.
Reliability, real-world capability, and perceived value may appeal to human rationality, but those qualities are ultimately compelling only if we assume a cognitive model of human identity that overlooks our true essence. We aren't merely thinkers or believers. Above all, humans are desiring creatures.

The V-Strom returns in 2021 with V-Strom 1050 graphics
Nowhere is that more apparent than in the habits of the average motorcycle buyer. Most motorcyclists buy motorcycles with their hearts. Few people need a motorcycle (although we all have told our families we do). So the biggest problem with Suzuki's Bold New Graphics roll-out is that the bikes aren't anything we haven't already fallen in love with—and subsequently moved on from. We're still talking about the glory days of two decades ago because the narrative is affecting at the gut level. We long for the new glory days. We long for new ways to daydream, and for new ways to blow our hard-earned cash.

Blacked-out GSX-R1000R looks good, though brings to mind the wadded rattle-can-painted Gixxer you see so often at bike night.
Right now, maybe the best thing you can say about Suzuki's lineup is that it's sensible. But dropping a wad of cash on a motorcycle isn't a sensible act in the first place, so for a lot of consumers, sensible may not cut it. We want to want a new Suzuki. While evidence of a new middleweight parallel twin (possibly to replace a V-Strom 650 and/or SV) is heartening, hopefully Suzuki will sell enough Jimny 4x4s to consider padding the budget for the geniuses over in GSX-R land as well. The proof that all it needs to do is move some money around in order to give us the GSX-R we all want is that Joan Mir is 2020 MotoGP World Champion. It's a good place to start, anyway.