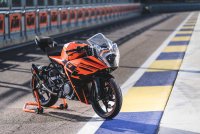 Nearly every small-displacement entry-level sportbike echoes MotoGP and World Superbike inspiration in its bodywork. But few hold their place as premium lightweight machines; the aggressive styling cues often hide budget components, meaning these machines are more basic-spec commuters than miniature racing contenders. That is why you will find that there is an exponential jump in price going from a Class 2B mid-category sports bike like the Yamaha R3 up to the Yamaha R6 (or R7 now) and likewise when looking at Honda's offering of the CBR250RR and CBR600RR. KTM wants to do things a little bit differently though and have put out the long-awaited RC 390 to prove this point.

The KTM RC 390 bucked the trend somewhat when it first launched in 2014. Now the bike looks to take the lightweight supersport class to the next level. Its intent is clear. Aside from fresh aerodynamic bodywork inspired by the Orange Brigade's RC16 MotoGP machine, the all-new 2022 KTM RC 390 features premium updates focusing on function over form: a three-directional IMU, to support first-in-class lean-angle-sensitive traction control and ABS; a revised and lighter chassis; up-spec'd and adjustable WP Apex suspension; and sticky Continental tires, among others.

However, KTM left the RC's liquid-cooled DOHC 373cc single-cylinder engine relatively unchanged to sustain European A2 license eligibility, implementing a short list of improvements to meet new, stricter Euro 5 standards. The RC 390 gets an all-new exhaust system, revised fueling, and a 40-percent-larger airbox. The result is a slight 1.5-pound-foot boost in torque, to 27.3 pound-feet at 7,000 rpm.
Most of the RC 390′s updates focus on handling. KTM optimized the lateral rigidity of the RC's steel trellis frame and bolt-on subframe, saving 3.3 pounds in the process. More weight savings comes in the form of trick lightweight "open hub" wheels, which are 7.5 pounds (30 percent) lighter than before, for a big reduction of unsprung weight. The 390 is also upgraded with a new fork from KTM-owned WP, featuring compression and rebound damping adjustment. The Apex shock is adjustable for spring preload and rebound damping, rare luxuries indeed for the lightweight segment.

The KTM RC 390 and all its updates come to a halt thanks to a new radial-mounted four-piston ByeBre caliper and 320mm disc up front plus a single-piston caliper clamping a 230mm disc at the rear. The RC features lean-angle-sensitive cornering ABS, a feature unique to its category. The system is switchable with KTM's Supermoto ABS, which allows for rear-end lockup. The new braking system shaves an additional 2 pounds off the RC 390.
Revised MotoGP-inspired bodywork is claimed to have increased the top speed by approximately 7 mph, despite only minor engine tweaks. The clip-on handlebars have a 10mm height adjustment; significantly, there's also a new full-color TFT dashboard with Bluetooth connectivity to KTM's My Ride app directly in front of them. The fuel tank's capacity increases to 3.6 gallons.

The 2022 KTM RC 390′s powerplant impressed with its friendly character during test rides in northern Italy, even if the lightweight supersport sounded a bit strangled at low revs through the factory exhaust system. Below 6,000 rpm, the single-cylinder pulls easily and fueled cleanly, and the feel of connection through its ride-by-wire throttle response is centuries ahead of single-cylinder engines of the past.
Keeping it spinning above the 6,000-rpm threshold and you're rewarded with serious fun; at that point the exhaust finally warms to its task with a more aggressive note. When cruising at 75 mph, the rev counter hovers around 7,000 rpm with plenty of revs left to use. The RC happily pulls toward its redline in every gear, and despite the minimal engine changes, managed to reach an indicated 111 mph with some left in reserve.

True, the RC 390 doesn't pack a huge amount of power to play with. But that's exactly what makes it so dang entertaining: It's pure and simple to ride fast without the worry of doubling the speed limit and the consequences that come with. Riding this bike is all about corner speed. Focus on your brake point, smash apexes, feel the mechanical grip and feedback from the chassis, open the throttle early, and you're off to the races. Ask for too much and the new traction control system will lend you an added degree of safety. As the saying goes, it's more fun to ride a slow bike fast than to ride a fast bike slow.

The superb ride quality and feel from the WP Apex suspension makes for a plush ride on the road, even if it is slightly soft at the rear when carrying my 174 pounds at a spirited pace. Damping and preload adjustments are quick and easy thanks to the provided tools underneath the seat and take a few seconds on the side of the road. Those adjustments are immediately apparent and representative of the high-quality components fitted to the RC; this isn't something typical of budget-conscious machines. The RC 390 also proved agile while ripping the streets of Modena. Only minimal input is required to make steering corrections and dart through traffic as needed.

Unlike some of its competitors, the RC 390′s premium build quality and components let it thrive under the tough demands of the racetrack even in its standard trim. After six sessions of all-out lapping, I had to remind myself that this KTM is intended to be a beginner-friendly machine.
Chassis composure was a highlight of track testing. The suspension action of the WP components is controlled and confidence-inspiring, while adequate ground clearance and the OE-fitted Continental tires allow you to deck the RC 390 on its side in search for maximum corner speed. Performance only faded toward the closing stages of a 20-minute session, but in fairness that's to be expected in the 30-degree-celcius heat.

The increased stopping power of the ByBre components is welcomed at the racetrack, where the brakes delivered good feel and consistent performance throughout testing. The ABS of the new system is exceptional, only intervening when needed. Supermoto ABS, which allows for rear-wheel lift, is the preferred setting at the track.
Serious trackday enthusiasts will take note of the full line of accessories offered in KTM's Powerparts catalog, including the race-spec muffler equipped to our test unit. Other available accessories include paddock stands, brake lever guards, race-spec chains, and more.
The all-new RC 390 emphatically sets a new benchmark for the lightweight supersport class. Precise, confident handling aided by top-shelf components is the highlight of its performance on both road and track, while added electronic rider aids place it in a league of its own. Pair that with MotoGP-inspired bodywork and the premium build quality we expect of KTM, and it's hard to argue with how impressive the RC 390 is.

While no retail price has been set for the 2022 KTM RC 390, thus we will not be able to advise on the OTR price here in Singapore, the upgrades and high-spec parts suggest it won't be cheap, especially for its class. Still, we can't wait to get a test unit here to ride on the roads of Singapore.
2022 KTM RC 390 Specifications
MSRP:    TBA
Engine:    DOHC, liquid-cooled single-cylinder; 4 valves
Displacement:    373cc
Bore x Stroke:    89.0 x 60.0mm
Transmission/Final Drive:    6-speed/chain
Claimed Horsepower:    43 hp
Claimed Torque:    27.3 lb.-ft. @ 7,000 rpm
Fuel System:    Bosch EMS w/ ride-by-wire
Clutch:    PASC anti-hopping slipper; mechanically operated
Frame:    Steel trellis frame
Front Suspension:    WP Apex 43mm inverted cartridge fork, compression and rebound adjustable; 4.7 in. travel
Rear Suspension:    WP Apex shock, rebound and spring preload adjustable; 5.9 in. travel
Front Brake:    4-piston ByBre caliper, 320mm disc w/ ABS
Rear Brake:    1-piston floating caliper, 230mm disc w/ ABS
Wheels, Front/Rear:    5-spoke wheels; 17 in. / 17 in.
Tires, Front/Rear:    110/70-17/ 150/60-17
Rake/Trail:    23.5°/3.3 in.
Wheelbase:    52.9 in.
Seat Height:    32.4 in.
Fuel Capacity:    3.6 gal.
Claimed Dry Weight:    342 lb.
Availability:    TBA
Contact:    ktm.com