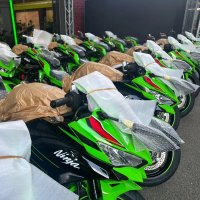 Exciting News! 𝑻𝒉𝒆 𝒐𝒇𝒇𝒊𝒄𝒊𝒂𝒍 𝒁𝑿-𝟒𝑹𝑹 𝒉𝒂𝒔 𝒂𝒓𝒓𝒊𝒗𝒆𝒅!
Be the first to experience its cutting-edge features. Visit our store, 𝒕𝒉𝒆 𝒆𝒙𝒄𝒍𝒖𝒔𝒊𝒗𝒆 𝒅𝒊𝒔𝒕𝒓𝒊𝒃𝒖𝒕𝒐𝒓 𝒊𝒏 𝑺𝒊𝒏𝒈𝒂𝒑𝒐𝒓𝒆, and get yours today. Don't miss out on this amazing opportunity!










Mah Pte Ltd is the 𝗼𝗻𝗹𝘆 sole authorized distributor in Singapore to provide factory warranty from Kawasaki.

𝘾𝙤𝙣𝙩𝙖𝙘𝙩 𝙤𝙪𝙧 𝙎𝙖𝙡𝙚𝙨 𝙏𝙚𝙖𝙢:
𝗔𝗺𝗶𝗻 91149428
𝗙𝗶𝗿𝗱𝗮𝘂𝘀 82924460
𝗔𝗺𝗶𝗿𝘂𝗹 88152709
𝙎𝙝𝙤𝙬𝙧𝙤𝙤𝙢 𝘼𝙙𝙙𝙧𝙚𝙨𝙨:
1179 Serangoon Road
S(328232)