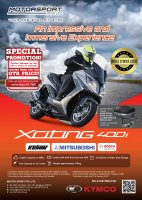 For the month of January 2021, Kymco's exclusive distributor in Singapore - Motor Sport Pte Ltd, is having a massive blowout sale on LIMITED units of the Kymco Xciting 400I and this sale will only last until 31st January 2021. On top of CASH discounts that are too low to list online, there are FREE gifts worth up to S$1,700 and many other included goodies.
Undoubtedly one of the most popular Class 2A scooters in Singapore, right after the standard offerings from Yamaha and Honda, the Kymco range of scooters and maxi-scooters are a common sight on our roads due to their value-for-money pricing, tons of technological features, and handsomely good looks.

Additionally, the Xciting 400 is the largest displacement scooter in the Class 2A range, with most of its competitors coming in at only 300cc (can you say "bang for your buck").
January 2021 Promotional Offer:
Cash discount (too LOW to publish online! Inquire in store!)
S$1,700 of freebies and goodies
3 free engine oil servicing
1 year unlimited warranty coverage
SHAD branded rear top box
DVR (incl installation and warranty)
Helmet
Raincoat
VERY limited units are available so contact Motor Sport Pte Ltd today to secure your unit! Remember to quote "SINGAPOREBIKES.COM (SBF)" to get the best price from them!
MOTOR SPORT PTE LTD (SHOWROOM)
Blk 3006, Ubi Road 1, #01-350, Singapore 408700
6281 9778 
MOTOR SPORT PTE LTD (WORKSHOP)
Blk 3007 Ubi Road 1, #01-446 Singapore 408701
6749 6717/8
KYMCO XCITING 400 Features
ABS system made by BOSCH (German Engineering)
Belting from Mitsubishi (Japanese Engineering)
All parts made and assembled directly at KYMCO Factory (Taiwan)
Keihin EFI System