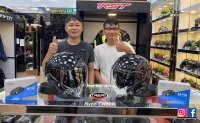 New launch alert! The Caberg Flyon Full Carbon Helmet is now available at a launch promo price of S$399 ONLY! This includes a FREE set of Parani M10 motorcycle bluetooth headset worth a staggering S$129.90, completely free of charge!
The Caberg Flyon Full Carbon Helmet is PSB approved and available in:

The helmet and Parani bluetooth headset comes with a warranty period of 1 year courtesy of Caberg and Parani distributor - Racing World!
SHOP NOW and get delivery to your doorsteps: https://www.singaporeracingworld.com/product/caberg-flyon-carbon-helmet/
FLYON IS THE CABERG OPEN FACE CONCEIVED FOR THE DAILY URBAN AND EXTRA-URBAN ROUTES.
The high quality of the materials used and the main features of this open face allow to enjoy longer itineraries with medium and high-powered motorcycles without regretting the characteristics of a full face or a flip-up.

Among the many features there are a wide outer visor, equipped with a lock system to prevent sudden opening, an anti-fog Pinlock lens, an integrated sunshade visor easy to move, an extraordinary ventilation granted by two vents on the top and an air extractor on the back, and the possibility to mount Bluetooth communication system.

All these great features make the FLYON a contemporary helmet able to satisfy the most demanding touring bikers.

For more promotions, offers, and specials from Racing World Singapore - Do refer to their forum location here:
https://www.singaporebikes.com/forum/376-racing-world-s-pte-ltd/
1