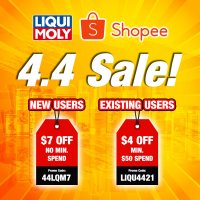 It's time to replenish your vehicle care collection! Shop for Liqui Moly's vehicle care essentials during the Shopee 4.4 Mega Sale! Liqui Moly is the leading lubricant company in Singapore and are trusted by all riders! Get your hands on made in Germany products at a discounted price today thanks to the Shopee Mega 4.4 sale!
Whether you need some chain lube or degreaser, or some wheel cleaner to keep your motorcycle looking in tip-top shape, head over to Liqui Moly's store on Shopee now and save more with the discount codes located below!
If you're a NEW user, use the code below to get $7 COMPLETELY FREE! NO MINIMUM SPEND!
Liqui Moly Shopee Store: https://shopee.sg/liquimolysingapore
Discount Codes:
NEW users - "44LQM7" ($7 off, no minimum spend)
EXISTING users - "LIQUI4421" ($4 off, $50 minimum spend)
ALL CODES VALID UNTIL 6TH APRIL 2021!