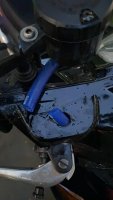 Join us on the SingaporeBikes.com Official Telegram Group to get the latest news and promotions straight to your phone!

Now this is a really disturbing sight as shared by bro Dinie Razali about his Yamaha Spark 135 that was parked at his housing block's carpark located at Tampines Block 359A, Level 2B.
After coming back to his motorcycle which was parked overnight, he noticed that something was amiss as he could see that there were stray cables sprouting out from his handlebar area. Upon closer inspection, he noticed that both his brake reservoir hose as well as his IU cable has been cleanly cut off by someone (a vandal).

He acknowledges in his post that his noisy motorcycle might have caused displease to certain neighbours but they have taken it too far by tampering with something that could result in a very serious accident or even death.

We certainly hope that Dinie has made a police report as this case is very serious and the culprit could even be charged with attempted murder! If a motorcyclist or biker is making you unhappy with his exhaust note or riding antics, please leave a note or go through the proper channels like your local MP or LTA - tampering with the safety system of a motorcycle is a big NO-NO!

Riders, please always exercise due care and caution to those around you, and this incident is a very good reminder to all motorcyclist to check the safety and functionality of your motorcycle before every ride. It is very fortunate that Dinie manage to see the damage caused to his motorcycle before riding off, as this could have turned out a lot worst.