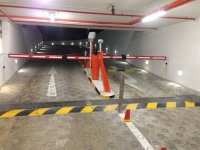 This article was first published on Today Online.

SINGAPORE — For several months, Goh Zi Zhao avoided having to pay parking fees for his car on hundreds of occasions by using the modified in-vehicle unit (IU) of his motorcycle, which he had bought a season parking permit for.
By the time the authorities caught wind of Goh's illegal actions, he had evaded about S$3,400 in fees to be paid to the Housing and Development Board (HDB) and the Urban Redevelopment Authority (URA).
Drivers use stored-value cards in the IUs that are installed in motor vehicles to pay for parking fees. Each IU has a unique serial number and motorcycles are issued with a different type of IU compared to cars.


Current variant of the ERP units for Motorcycles, which are slimmer and smaller sized than its car counterpart
Goh, now aged 41, was sentenced to three months' jail on Tuesday (Oct 19) after pleading guilty to one charge each of cheating HDB and replacing his IU without authorisation.
Two other such charges were taken into consideration for sentencing.
When Goh committed the offences between Sept 2, 2018 and May 21, 2019, he had purchased a valid season parking permit for his motorcycle that cost S$20 a month. 
He did not buy a similar concessionary season parking ticket for his car, a Toyota Alphard.


A Toyota Alphard can cost upwards of S$200,000 brand new
MADE FULL RESTITUTION
The court heard that he used two different methods to commit his offences.
He first replaced his car's IU with the motorcycle's, which he had modified by connecting it to an external battery. He put this IU in his car before exiting car parks to avoid paying for parking fees.
He had begun researching online forums in 2017 to find do-it-yourself methods to connect his motorcycle's IU to external batteries, due to problems with the IU's built-in batteries. He then noticed that his replacement IU came with detachable clips.
His second modus operandi involved a "more stable" method of adhering the modified IU to his car's dashboard. 
He then kept the car's IU in a particular location to avoid it being detected by the gantries, before entering and exiting car parks.
After several rounds of trial and error, he managed to work out these methods.
In September 2018, HDB's car park vendor, ST Electronics (Info-Comm Systems), was auditing the Electronic Parking System records for the multi-storey car park at Block 603A Senja Road when it noticed Goh's car had numerous entry records but no exit records.


MSCP of 603A Senja Road, where the alleged offence took place
Upon reviewing closed-circuit television cameras at the various entry and exit points of the car park, the vendor observed that Goh had driven his car out on each occasion but the corresponding IU number recorded was that of his motorcycle.
A HDB employee then lodged a police report on May 10, 2019.
Eleven days later, police officers went to the multi-storey car park and approached Goh upon seeing him drive in. They found the modified IU on the car's floorboard.
He had evaded parking fees amounting to S$3,362 at HDB car parks on 545 occasions and fees of S$65 for URA car parks on 21 occasions.
In sentencing Goh, Principal District Judge Victor Yeo called his offences sophisticated and difficult to detect, but noted that he had made full restitution to HDB and URA. 
It was clear that he would have gone on if he was not caught, the judge added.
Goh could have been jailed for up to three years or fined, or punished with both, for cheating.
Those convicted of replacing an IU installed in a motor vehicle without authorisation can be jailed for up to a year or fined up to S$2,000, or both.