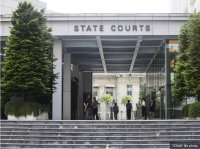 Domino's pizza maker gets 5 months' jail for stealing deliveryman's motorcycle, taking girlfriend on joyride without a licence


TODAY file photo
Muhammad Irfan Boey Farhan Abdullah Boey pleaded guilty to stealing a motorcycle and riding it without a valid licence
The court heard that he wanted to go on a joyride
He was sentenced to five months' jail 
SINGAPORE — Noticing that his colleague had left the key to his motorcycle in the ignition switch, a Domino's pizza maker decided to seize an opportunity for a joyride without his colleague's consent.
Taking advantage of the fact that his colleague was picking up a delivery order, Muhammad Irfan Boey Farhan Abdullah Boey hopped onto the motorcycle and rode off to pick up his girlfriend.
On Wednesday (May 3), the 21-year-old Singaporean was sentenced to five months' jail after he pleaded guilty to stealing a Malaysian-registered motorcycle and operating it without a motorcycle driving licence.
He will also not be able to hold or obtain all classes of driving licences for a year with effect from the date of his release.
A single charge of riding the motorcycle while uninsured was also taken into consideration for Irfan's sentencing.
WHAT HAPPENED
Deputy Public Prosecutor (DPP) Regina Lim told the court that the incident happened on Feb 11 this year when Irfan was working as a pizza maker at a Domino's outlet along Yishun Ring Road.
That day, Irfan "came up with an idea" of taking the motorcycle belonging to his colleague, Mr Mohamad Hafiq Aiman Abdullah, DPP Lim added.
It was not stated why Irfan wanted to go on a joyride, but the court heard that he targeted Mr Hafiq because he would usually leave his motorcycle near the shop.
At around 9.30pm, Mr Hafiq parked his motorcycle outside the outlet and left the key in the ignition switch because he was intending to use it again after collecting a delivery order.
When Mr Hafiq entered the shop, Irfan got onto the motorcycle and rode away with it and headed to another Domino's outlet around Woodlands Rise where his girlfriend was waiting.
It was not stated whether Irfan's girlfriend, who was not named in court documents, was also an employee of Domino's.
DPP Lim said that the duo went for a joyride around Woodlands before heading to the woman's home and then riding the motorcycle out for supper at Woodlands Waterfront.
After supper, the pair "roamed around" on the motorcycle until 4am or 5am, before they returned to their respective homes.
Irfan, who had parked the stolen motorcycle near his home, used it again to pick up his girlfriend from her home that afternoon and they "rode the motorcycle until they were tired", DPP Lim said.
He was eventually arrested by the police on the afternoon of Feb 13, and the motorcycle was recovered.
During the course of investigation, Irfan made several false statements, DPP Lim said.
This included saying that an "unknown male on TikTok Live had offered to lend the motorcycle to him for three to four days", and that this individual "did not mind" that Irfan did not have a motorcycle licence.
TikTok Live refers to a format on the social media platform that allows content creators to interact with viewers in real-time.
Irfan also lied that an acquaintance, who went by the name of Aslam, bore a grudge against him and wanted to get Irfan into trouble.
Irfan added that he suspected Aslam could "have set a trap for him by getting someone to approach him on TikTok Live".
DPP Lim said that Irfan later "recanted his falsehoods" and admitted that he had stolen the motorcycle.
It was not stated in court if Irfan is still employed by Domino's and TODAY has sought clarification from the pizza chain.
Anyone found guilty of stealing a motor vehicle can be jailed up to seven years and fined.
For driving a vehicle without holding a valid licence, Irfan could have been fined up to S$10,000 or jailed up to three years, or both.
Article Credits: todayonline