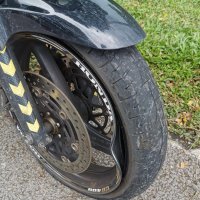 On the 21st of November, Leon Tay was riding along the PIE between lanes 1 and 2 and just before Exit 34 (Jurong West Avenue & Corporation Road) and noticed that there was a fallen tree branch along the road which was rather large in size.
Due to noticing it last minute and not having the time to reach, Leon unfortunately hit onto the branch and skidded. The accident also cause his rim to become deform and damage the tyres.

EMAS attended to the incident shortly after and Leon and his motorcycle were both taken to safety.
After the entire ordeal however, Leon then wrote in to LTA to inform them of the situation as he wanted to claim for damages and medical bills for him and his motorcycle due to the danger on the road that was under the purview of the relevant departments. However, LTA responded that all they could do were to feedback to NParks and the other departments to see what the outcome would be.
They have also asked Leon for any footage if available of said branch on the road to aid in their investigation. It would be noted also that EMAS mentioned that there was no sign of the mention branch on the roads when they attended to Leon.

Leon is appealing for any footage of the incident that occurred on 21st of November 2020, and if you have any such evidence, please e-mail or contact Leon at his Facebook profile here: https://www.facebook.com/tay.t.kong

This goes to show that a helmet camera or a mounted DVR could really help and assist in such times and all bikers should consider this investment for your own safety and pocket! Also be sure to take note of the details of all such incidents and highlight them to the emergency services attending to you (only if you are safe and well) to assist in such claims in the future.
We wish Leon the very best and hope he recovers soon and also can get the appropriate help that he needs from the government agencies.