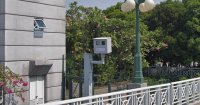 Although motorcycles are not allow on Sentosa Island (yes this is another topic for another day), since the Circuit Breaker started in Singapore last year, there has been an increasing number of motorcycles entering Sentosa by means of being a delivery rider, either to send food to one of the many hotels on the island, or picking up food from one of the many F&B establishments on the island.
If you're thinking about using your status as a delivery rider to enter Sentosa on a weekend with your better half however, it will not work. At the entry to Sentosa, the rangers will check your phone and app to ensure that it is a legitimate delivery before allowing you onto the island.

Anyhow, for those of you who frequent Sentosa whether in a car or on a motorcycle, you will notice that there are several speed cameras around the island. This is due to its narrow carriageway as well as high flow of human traffic so vehicle speeds must be kept to a minimum. Most, if not all of the cameras are at 50km/h.
The cameras location are:
Bridge linking Singapore mainland and Sentosa Island
Straight after first roundabout leading to Tanjong Beach
Straight after second roundabout leading to Sentosa Cove
It has been a long debate among many motorist on whether the cameras work, and if they do work, does the Sentosa Development Corporation (SDC) have any jurisdiction over issuing of traffic summons.
The simple short answer is, yes, they do.
Evidently seen from a notice of traffic offence that has been circulating on several Whatsapp chat groups, you will note that the person in question has been issued a summon of S$75 for speeding entering Sentosa at a speed of 70km/h (Traffic offence letter below). 

There is also a deadline stated within the letter and if the composition amount is not paid by then, the person may then be subjected to further charges and there could be a fine of up to S$2,000.
SDC is a statutory board within the Singapore government and they do have the right to take action against offenders and if this letter is ignored, believe us, they will be able to bring the matter further to the Traffic Police or even the courts. This is the reason why SDC is also able to get the vehicle owner's details just from your license plate.
If you ever have the misfortune of being caught of speeding on Sentosa, please pay the fine and use it as a reminder to always watch your speed and safety. At the rates which the food delivery companies pay riders, such a fine would mean a couple of day's work going down the drain.

Remember to always ride safe, take care, and for those few who are lucky enough to get orders from within Sentosa, enjoy the view but remember no speeding!
Discussion thread on SBF on Motorcycles Entry into Sentosa: