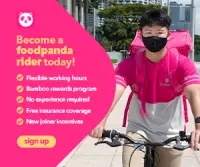 Foodpanda - Maximize your happiness - this Chinese New Year

@FoodPanda Huat with our New Joiner CNY incentive, New Joiner Angbao and CNY Refer-a-friend incentive!
CNY New Joiner Incentives: Make up to +$1,080 when you complete orders within the New Joiner CNY incentive period. Top 8 riders of the New Joiner CNY incentives will receive a limited edition foodpanda Mahjong Set. For New Joiners onboarded between 28 Jan 22 - 20 Feb 22, you'll receive an additional $58 New Joiner Angbao when you complete your first New Joiner milestone.
Refer a Friend CNY Incentive: In just 3 simple steps, you can boost your referral incentives up to $1,048 when you refer 2 friends to us and stand to make more $$$ via our Tiered Referral Program when your referrals' refers too!  
1. Make up to $380 with our Refer-a-friend incentive.
2. Refer at least 2 friends to join you in this foodpanda rider journey during the CNY Refer-a-Friend period to receive an additional $288.
3.
Additional incentives from our Tiered Referral Program.
Also did you know that we are kick-starting our New Joiner Leaderboard officially on 01 Feb 2022? (Make up to +$500!)

Join SingaporeBikes on Telegram for the the latest news, special offers, reviews of motorcycles, and more!