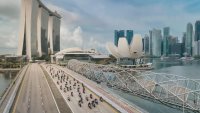 More riders holding on to their motorcycles as COE premiums stay high

SINGAPORE – More motorcycle riders are holding on to their ageing bikes, as new ones become increasingly expensive due to high certificate of entitlement (COE) premiums.
In the first eight months of 2023, 2,448 motorcycles had their COEs revalidated for 10 years. This already exceeds the 2,262 renewals made in the whole of 2022, up from 1,954 in 2021.
For five-year renewals, the figure of 2,596 for the same period is also closing in on the 2022 total of 2,992 such renewals.
The increase in COE renewals comes as new motorcycles become increasingly expensive to buy or rent. Those who own motorcycles are also less willing to sell them, based on the number of ownership transfers recorded.
In 2023, motorcycle owners paid between $9,651 and $12,096 to renew their motorcycle COE for 10 years, higher than the $7,500 to $9,355 range in 2021.
Motorcycle COE premiums soared in 2022, hitting a record of $13,189 in November that year. This pushed up the price of renewals, which is derived from the three-month average COE price.
At the end of 2022, there were 10,137 motorcycles due to reach their 10th year in 2023. This will be when owners can decide whether to deregister their vehicles, or revalidate the COE for either five or 10 years.
According to Land Transport Authority (LTA) data, proportionately more smaller motorcycles had their COEs renewed in 2023 than in the past two years.
This refers to motorcycles with an engine capacity of up to 400cc, which include motorcycles that tend to be used for basic transport and food delivery services.
There were 3,798 motorcycles with engines of up to 400cc that had their COEs renewed in the first eight months of 2023.
This surpassed the 2,823 renewals in 2021, and is likely to at least match the 3,919 renewals seen in the whole of 2022.
Five-year extensions are more popular for such motorcycles as owners pay half the cost to renew a COE for 10 years.
However, the COE cannot be extended further unlike those that are renewed for 10 years.
In the first eight months of 2023, the number of five-year renewals for smaller motorcycles was more than double that of 10-year renewals.
The situation is reversed for motorcycles with engines larger than 400cc – 1,110 such motorcycles had their COEs renewed for 10 years, compared with just 136 that had the five-year option.
Owners have one month to renew their COE after it expires, subject to late renewal fees.
The most current available data on revalidation is up to August.
It is also possible to revalidate a COE before it expires, forfeiting its remaining value.
Unlike with cars, motorcycles do not get rebates on taxes paid when they are deregistered before the end of their 10th year.
This means owners who keep their motorcycles on the road for the entire 10 years will not be forfeiting any scrap value.
Based on published data from LTA, in September, a new Yamaha Nmax 155, without COE, cost $4,191. Registering one will cost around $15,000, after the COE price is included.
An owner is thus more likely to renew the COE for his existing motorcycle, if it is still in working condition, than buy a new one.
Article Credits: asia1.topnews.media