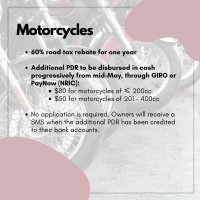 During Singapore Budget 2021, there was a notice that the petrol duties will be increased across the board. This has a direct impact on drivers, riders, and commercial vehicles who ply the roads everyday.
To lessen the effect of this petrol duty increase at the start, DPM Heng Swee Keat shared some rebates, grants, and one-off payments that will be paid out to owners of vehicles to soften the impact of this duty increase.

While information was sacred during the budget announcement, we now have official confirmation from LTA on the items that will be paid out as well as the time frame.
Basically, there is going to be:
60% road tax rebate for 1 year
additional PDR (petrol-duty rebate) to be disbursed from mid-May either via GIRO or PayNow ($80 for Class 2B bike owners, $50 for Class 2A bike owners, no PDR for Class 2 bike owners)
There is no need to sign up for these rebates, they will be automatically credited to your account as registered in your LTA record or SingPass.
What do you think now that we have more clarity on the scheme? Let us know your thoughts and comments in the comments section below!
If you'd like to find out more on what was shared earlier and also look at a real life example, please refer to our earlier article here:
1